Bushmills Irish Whiskey Launches New 'World Wood' Series With Rare 15 and 21 Year Old Single Malts, Exclusive To Global Travel Retail
Published Date: 7th September 2023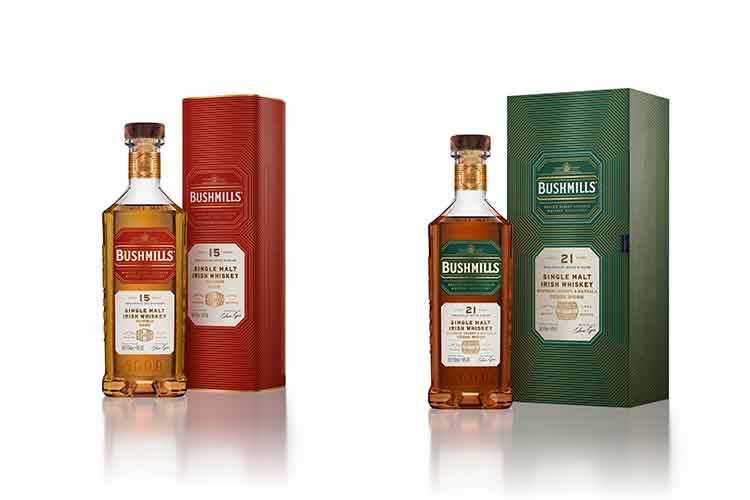 The World Wood Series is a collection of small batch, rare single malt Irish whiskeys, crafted in hand-selected casks from all over the world and meticulously matured at the Old Bushmills Distillery
The first expression in the series is a 15 Year Old single malt, aged in a combination of ex-bourbon first- and second-fill American oak casks. The second is a 21 Year Old single malt, matured in ex-bourbon casks and oloroso sherry butts before finishing in rare Marsala wine barriques
Both expressions will be available exclusively from Duty Free stores throughout Asia Pacific as well as Dublin Airport, the only European location to offer the series, from September 2023
Bushmills, County Antrim, 6th September 2023: Bushmills® Irish Whiskey has today announced the launch of two rare, single malt Irish whiskeys as part of the brand's new 'World Wood' series created exclusively for global travel retail. Shaped by the unique microclimate on Northern Ireland's wild causeway coast and seasoned in casks from across the world, the first two expressions - a 15 Year Old and a 21 Year Old single malt - will be available from September.
The World Wood series epitomises Bushmills' pioneering philosophy of restless progress, showcasing the brand's extraordinary expertise in whiskey distilling and wood management with carefully curated single malts aged in the finest and rarest hand-selected casks.
For more than four centuries, Bushmills has been relentlessly committed to delivering world-class whiskeys and, in doing so, has often looked beyond Ireland's shores for inspiration. This new series is spearheaded by Master Blender, Alex Thomas, who adds, "We search the four corners of the world to find exactly the right cask to bring back to our corner to Northern Ireland – Jerez in Spain, Kentucky in USA and Marsala in Sicily". Alex has worked tirelessly with her network of leading wine and spirit producers and expert cooperages across the globe to handpick the perfect combination of casks. The resulting expressions are testament to her ingenuity and craft, combining the unique character of Bushmills with wondrously warm flavours and accents from far-flung corners of the world.
The 15 Year Old single malt is a masterful combination of 15 Year Old ex-bourbon first and second-fill American oak casks that beautifully showcases and elevates the floral and fruity Bushmills character. First-fill barrels offer bold, bourbon flavours with layers of soft vanilla and sweeter notes, while the second-fill adds more of the distinct Bushmills character and the natural flavours from the American oak.
The spirit is patiently matured at the Old Bushmills Distillery for 15 years and bottled at 46% ABV, so the sweet, nutty, and complex flavour profile can be savoured to the full. The result is an amber gold whiskey with inviting aromas of toasted oak, warm caramel, vanilla, and subtle hints of hazelnut. The taste is a unique marriage of clove, toffee apple, honeyed vanilla, and sweet apricot, with a smooth and gently warming finish that leaves you wanting more.
The 21 Year Old single malt is aged in bourbon barrels and oloroso sherry butts for a minimum of 18 years before finishing in rare first-fill Marsala wine casks from Sicily for three years. Each of these hand-selected barriques has been seasoned with Marsala Fine Ambra Semisecco DOC, then lightly toasted to deliver lighter, fruitier notes to the maturing whiskey, perfectly complementing the Bushmills floral and fruity house style.
Bottled at 46% ABV, the luxuriously complex flavour profile shines through. On the nose, intriguing aromas of caramelised brown sugar and gentle toasted oak interwoven with candied orange and vanilla. The spirit's long wait in three types of wood gives a decadent flavour, with luxurious notes of warming ginger and stone fruits mingled with hazelnut, chocolate, and mellow oak, culminating in a sweet, lingering finish that fades slowly.
Bushmills 15 and 21 Year Old GTR exclusive single malt Irish whiskeys are available throughout Asia Pacific and Dublin Airport, Ireland Duty Free stores.
Bushmills 15 Year Old single malt is bottled at 46% ABV and priced at $90 for 700ml.
Bushmills 21 Year Old single malt is bottled at 46% ABV and priced at $265 for 700ml.
More Whisky News
Distillery of the Month: November 2023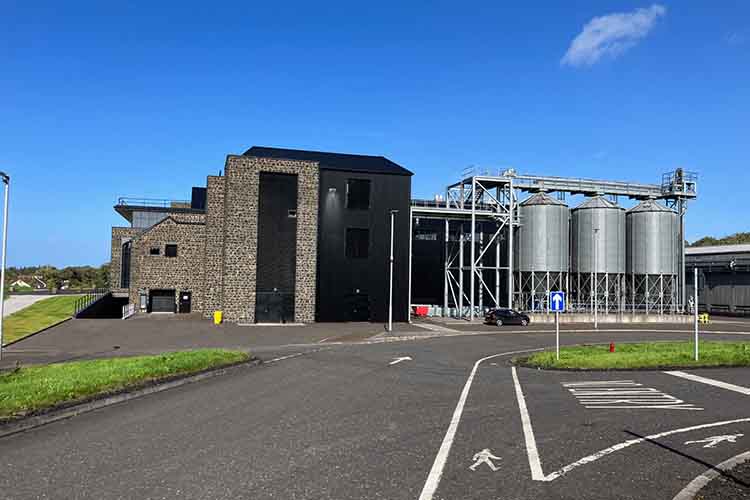 Planet Whiskies visited the new Bushmills Distillery in Northern Ireland on the 25th and 26th of September. Read our review of the experience of Bushmills and Northern Ireland at Planet Whiskies tour of Bushmills and Northern Ireland
You can also read the whole section about Bushmills Distillery at Bushmills Distillery Information on Planet Whiskies... So Bushmills is Planet Whiskies Distillery of the Month title for November 2023
Get Newsletter
Subscribe to our newsletter to get latest news, popular news and exclusive updates.