Walsh Whiskey Distillery has now obtained full planning permission for its new state-of-the-art distillery in Royal Oak, Co. Carlow - 23rd July, 2014

The €25 million distillery to be developed at the site at Royal Oak has been granted planning permission and work is to commence in September and construction to be complete by December 2015. The long-term plan envisages a the development of a world-class, independent, craft Irish whiskey distillery; maturation warehouses and a unique visitor experience by the banks of the River Barrow in Royal Oak. The planned distillery visitor centre will cater for 75,000 'whiskey tourists' by 2021.
The expansion will create a total of 55 permanent and part-time jobs in the Carlow area, over 5 years, where the whiskies will be distilled, crafted and aged. In addition, the construction process will provide up to 40 jobs during the 18 month development phase. The Department of Jobs, Enterprise and Innovation, through Enterprise Ireland, is supporting this project.

The estate includes an 18th century country house that will be restored as part of the development plan. The plan is for the distillery, with capacity to produce 400,000 cases annually, to become operational in 2016. It will have two production lines using both pot stills and column stills which will facilitate Walsh Whiskey Distillery producing all four types of Irish whiskey, namely; pot, malt and grain and blended. The distillery will also have the capacity to distil whiskey under contract for selected private labels most of whom have no means of production.
Global Resurgence of Irish Whiskey
Irish whiskey is resurgent worldwide after falling from its position as one of the world's leading whiskeys in the 19th and early 20th centuries. 100 years ago, 12 million cases of Irish whiskey were sold annually but a combination of factors including non-adoption of column stills, US prohibition laws and Ireland's post-independence trade war with Britain all contributed to its demise leaving the way clear for Scotch to become the dominant whiskey genre.
Ireland Inc's 21st century whiskey opportunity is reflected in Scotland's achievements in the sector. Annual sales of Scotch has now grown to 90 million cases, yielding over €5 billion in export sales while supporting 35,000 jobs across 109 distilleries.
Walsh Whiskey Distillery Led by founder Bernard Walsh, together the Walsh Whiskey leadership team has overseen revenue growth of 300% in the last 5years. With 95% of sales generated by exports, the Walsh Whiskey Distillery Irish whiskies are distributed in 30 countries. Five key markets currently account for 70% of sales, these are: the United States, Russia, Scandinavia, France and Germany. In partnership with Illva Saronno and its existing distribution partners, the company plans to gradually expand its network taking in major Asian markets, including India and China, where Illva has significant operations. In anticipation of this expansion the company undertook a comprehensive brand audit earlier this year with the support of Bord Bia.
The current Brands, The Irishman & Writers Tears have received gold awards in various competitions including Irish Whiskey Awards, San Francisco World Spirits Competition, International Spirits Challenge, International Spirits Award & The Beverage Tasting Institute to name a few.
About Walsh Whiskey Distillery:
Established in 1999 and based in Carlow in Ireland, the Walsh Whiskey Distillery Company (formerly/incorporating the Irishman Whiskey and Hot Irishman companies) is a leading independent producer of super-premium and ultra-premium, triple-distilled, craft, Irish whiskies. Demand for the critically acclaimed Irishman Whiskey and Writerṣ Tears brands currently exceeds supply in the 30 countries worldwide where they are distributed. Led by founder Bernard Walsh, and with a strong board of industry veterans, the company has entered a partnership with Illva Saronno to expand the business. Walsh Whiskey Distillery is in the process of developing a world-class distillery, maturing warehouses and a visitor centre at Royal Oak, Carlow in Ireland that will adhere to the best traditions of Irish whiskey distilling from its halcyon era in the 19th century. The expansion of the business will lead to increased supplies of Irishman Whiskey and Writers Tears brands from 2019 when distribution will increase to over 100 countries including China and India.
www.walshwhiskey.com
<< Back to all the latest whisky news brought to you by Planet Whiskies
Distillery of the Month: November 2023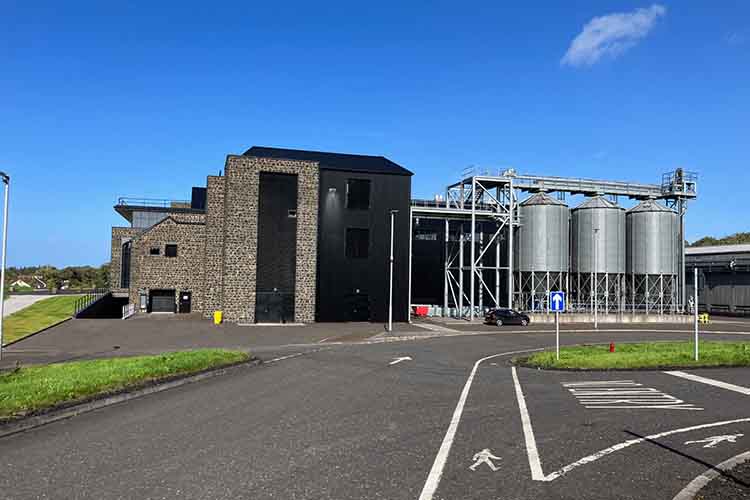 Planet Whiskies visited the new Bushmills Distillery in Northern Ireland on the 25th and 26th of September. Read our review of the experience of Bushmills and Northern Ireland at Planet Whiskies tour of Bushmills and Northern Ireland
You can also read the whole section about Bushmills Distillery at Bushmills Distillery Information on Planet Whiskies... So Bushmills is Planet Whiskies Distillery of the Month title for November 2023
Whisky Advent Calendars 2023
Get Newsletter
Subscribe to our newsletter to get latest news, popular news and exclusive updates.