Unveiling the Last Precious Drops: Littlemill 2017 Private Cellar Edition: 1st August, 2017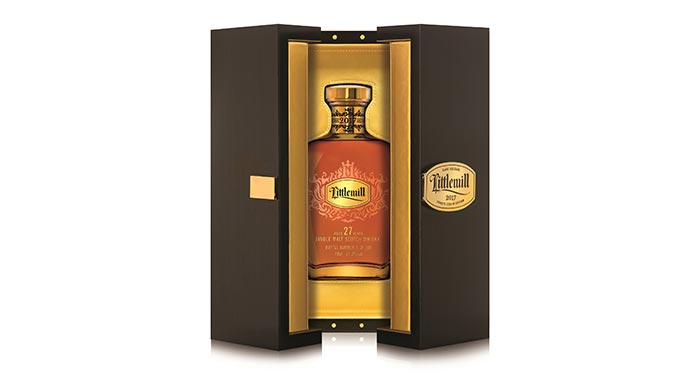 Whisky connoisseurs and collectors from around the world will have a rare opportunity to acquire a single malt from an extinct distillery thought to be one of the oldest in Scotland. 
Littlemill has released Littlemill 2017 Private Cellar Edition – a new limited edition whisky celebrating the last precious drops of single malt from the distillery. 
Rumoured to be one of the oldest in Scotland, and possibly even the world, the Littlemill distillery has a long and fascinating history. Officially established and producing whisky legally from 1772 in Bowling on the banks of the River Clyde near Glasgow, the distillery fell silent in 1994 and was subsequently destroyed by fire in 2004, never to produce a drop again.   
As a result there is now a very limited amount of Littlemill single malt left and the spirit of the distillery lives on in a series of sought-after expressions. Priced at £2,250, Littlemill 2017 Private Cellar Edition is the second in the series celebrating this rare whisky. It offers aficionados the opportunity to acquire a piece of Lowland Scotch whisky history.  
The latest release comprises 500 individually numbered limited edition bottles encasing the precious 27 Year Old whisky in the Littlemill Lowland style. Each opulent decanter is presented in a luxurious case which also features a unique piece of Littlemill cask used to mature this rare malt, as well as a miniature of the precious whisky itself. 
Littlemill's rich history includes a number of owners over its lifetime and it was notably one of the first distilleries to have a female licensee, Jane MacGregor, in 1823.  In the 1930s, the distillery was known for triple distillation before moving to the more traditional double distillation now associated with Scotch whisky.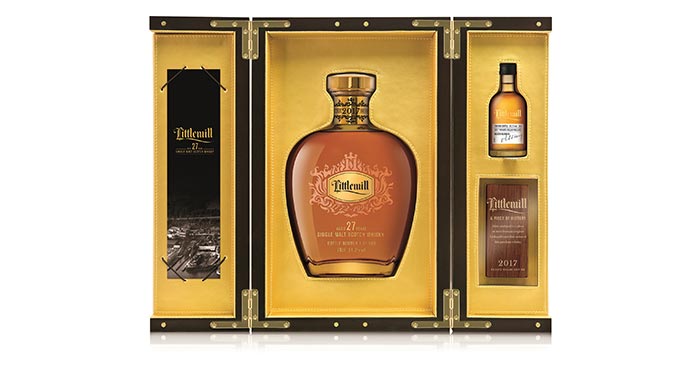 In 1931, under the stewardship of the American Duncan Thomas, Littlemill was at the forefront of still innovation with technical designs that could create three styles of single malts from full-bodied to light. These innovative stills provided the inspiration for the Loch Lomond Distillery, which was opened in the 1960s. 
To create the edition, Master Blender, Michael Henry selected eight casks from 1990 to pay homage to the true Littlemill distillery character; creating a lighter, floral spirit, reminiscent of the triple distillation of the Duncan Thomas era.   
Michael Henry, Master Blender at Loch Lomond Distillery, said: "It is rumoured that illicit distilling took place at the Littlemill distillery from 1750 and even for centuries before, possibly making it the world's oldest whisky distillery.   
"It's a tragedy that the distillery fell silent and was later destroyed by fire, committing Littlemill to legend. Once the last precious drops are consumed, an important part of Scotland's and Scotch whisky's heritage will be lost forever. A sip of Littlemill 2017 Private Cellar Edition is more than just a memorable pleasure; it is a unique and historic experience and the spirit of the distillery and its innovative stills live on at the Loch Lomond Distillery today." 
Littlemill 2017 Private Cellar Edition has been crafted from casks with the strongest floral character and subtle wood notes from distillations between 11th and 19th May 1990. The casks were filled at 68.8% strength, allowing them to retain more of the distillery character throughout the maturation in refill bourbon barrels. Ageing in refill bourbon barrels gave a softer wood influence and once selected the casks were married in fresh bourbon barrels for 12 months before bottling. 
Rare amongst the Lowland malts in using a Highland water source, as well as peat from Stornoway and Perthshire, Littlemill whiskies are renowned for a subtly floral, vanilla-rich sweetness.  
Littlemill 2017 Private Cellar Edition follows Littlemill 2015 Private Cellar Edition.  In the UK it is available to buy at most independent specialists including The Whisky Shop, The Whisky Exchange, Royal Mile Whiskies and Master of Malt and it will also be available in global markets, including Taiwan, France, Germany and Travel Retail.   
For further information visit www.lochlomondgroup.com 
Littlemill 2017 Private Cellar Edition Tasting Note
Nose – Green herbal notes of peppermint and eucalyptus lead into natural perfumed floral bursts of honeysuckle and lavender.  Cedar wood elements give structure.
Taste – Vibrant fruit is prominent with a background soft, subtle sweet character.  Mouth-watering crisp green apple, zesty grapefruit and tart juicy pineapple are followed by green tea notes and a delicate clover honey sweetness.
Finish – Warming spice of stem ginger and nutmeg liven the tongue before a long peppermint and sugar syrup finish.
<< View the range of Littlemill Single Malts
<< Read more about the Littlemill Distillery
<< Back to all the latest whisky news brought to you by Planet Whiskies