Tomatin distillery sponsors Scottish nine-hole open - 5th June 2013
Inverness‐shire Whisky Company to Sponsor Local Golf Event for 3rd Year Running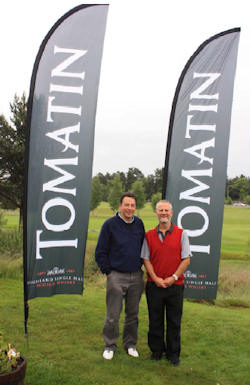 Inverness – 05/06/13 – Tomatin Distillery is to continue its headline sponsorship of the Scottish Nine‐Hole Open held at Carrbridge Golf Club on Saturday 6th July 2013. The Highlands‐based whisky company is also extending its support this year by sponsoring the inaugural Scottish Nine‐Hole Ladies Open, held at the same venue the following day.
The competition, now in its third year, is played the same week as the Aberdeen Asset Management Scottish Open held at nearby Castle Stuart Golf Links, allowing participants to be an Open Champion the same week as the Scottish Open.
John Walker, Club President at Carrbridge Golf Club, said: "We are delighted that Tomatin Distillery has continued their sponsorship for the third year of this tournament. Since 2011, the Scottish Nine‐Hole Open has grown in popularity as we welcome golfers from around the UK. The course is not easy; it is an exciting challenge and a test of golfing nerves with fewer holes to recover from errant shots. Located in the Cairngorms National Park, it is one of the most scenic courses in the UK and we know participants will not be disappointed."
"We are delighted to not only maintain but also extend our support to Carrbridge Golf Club with these two events in 2013" said Stephen Bremner, Tomatin Sales Director. "As a Highland company we strive to support local events and initiatives and it's undeniable that golf and whisky are an ideal partnership."
Golfers interested in participating in the Scottish Nine‐Hole Open or the Scottish Nine‐Hole Ladies Open on the 6th and 7th July 2013 should visit www.scottishnineholeopen.co.uk.
More details at www.tomatin.com.
<< View Tomatin Single Malt Range
<< View more details about the Tomatin Distillery
<< Read about Planet Whiskies tour of Tomatin DIstillery
<< Read more Graham Eunson Master Distiller
<< Back to all the latest whisky news brought to you by Planet Whiskies