Latest Whisky News - Tomatin Celebrates UK Growth With Double Fringe Win - 16th August, 2013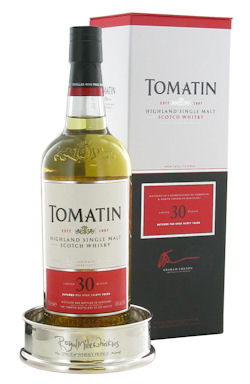 Tomatin Distillery is celebrating being the first distillery to have ever been awarded the 'The Spirit of Whisky Fringe Award' at the Whisky Fringe in Edinburgh for two consecutive years. The Highland company, which has experienced 150% growth in UK sales over the past 3 years, was once again voted the outright winner by visitors to the Fringe last weekend for its 30 Year Old Highland Single Malt Scotch Whisky.
The Whisky Fringe is an annual event held in the stunning venue of The Mansfield Traquair in Edinburgh, organised by whisky retailer Royal Mile Whiskies. Now in its 12th year, the sell‐out three day event presents over 200 whiskies to 500 visitors who vote for their favourite whisky they have sampled. No other distillery has previously been placed in 1st position two years running.
Tomatin has experienced 150% growth in UK sales over the past three years due to its change in strategy and increased exposure. Stephen Bremner, Sales Director, explained: "Whilst our business is predominantly export, the UK has become an increasingly important market for us. Our whiskies consistently rate highly in international whisky competitions, which is not only reflective of the overall growth of the brand but is also testament to the quality of the spirit we release. Consumers in the UK are finally sitting up and taking notice of Tomatin."
Bremner continues: "It is a great achievement that we have scored highly in this event's top ten voted whiskes for the past three years at the Whisky Fringe, and we are especially delighted that our new edition 30 year old has won the top prize two years running. What makes this award so special is that it is voted for not by industry experts but by customers themselves, so we are thrilled our whiskies rate so highly."
Tomatin Distillery had two expressions in the top ten in 2011 (their limited edition 'Decades' release marking Douglas Campbell's 50 years' service to the company and the previous bottling of Tomatin 30 year old) and a further two in the top ten in 2012 (their 1982 single cask and the overall winner the new edition 30 Year Old).
The Tomatin 30 Year Old is available to buy from The Whisky Exchange - Click to buy now
More details at www.tomatin.com.
<< View Tomatin Single Malt Range
<< View more details about the Tomatin Distillery
<< Read about Planet Whiskies tour of Tomatin DIstillery
<< Read more Graham Eunson Master Distiller
<< Back to all the latest whisky news brought to you by Planet Whiskies