Latest Whisky News - Smokehead Rocks Out - 10th June 2010

10 June 2010, Edinburgh: SMOKEHEAD, the rich and powerful Single Malt Whisky by Ian Macleod Distillers, has been named the official whisky sponsor of Classic Rock Magazine. To celebrate, a new edgy advertising campaign has been revealed, playing on the brand's growing rock credentials and rising popularity.
Smokehead's new, attention grabbing advertisement will feature heavily in Classic Rock and its sister publication, Prog Rock, throughout 2010. Designed by creative agency Robertson Darby Advertising, the new campaign takes its lead from Smokehead's award-winning packaging, cocooning a skull, the time-honoured symbol of rock, with adjectives capturing the Single Malt's boisterous, outrageous, and deep peaty flavours.
As the Whisky of Choice for Classic Rock magazine, Smokehead will command a high presence in the monthly music publication and its website, through an extensive advertising campaign and sponsorship elements such as the Readers' Letters page and regular promotions.
Smokehead is also now an official VIP sponsor for one of this year's biggest rock events, London's High Voltage Festival (24-25 July) and the hugely popular Classic Rock Roll of Honour 2010 Awards in November, attended by, and celebrating, rocks greatest icons.
Iain Weir, Marketing Director for Ian Macleod Distillers commented: "Combining its adventurous and modern packaging, with a rich rollercoaster of challenging flavours, Smokehead defies conformity and what people would traditionally expect from an award-winning Single Malt Whisky. Smokehead is powerful, intense and not for the faint hearted. The perfect match for a Classic Rock lover."
Angus Robertson, Managing Director of Robertson Darby Advertising commented: "Our latest treatment for the Smokehead brand was created with Classic Rock Magazine very much in mind. Inspired by the powerful imagery of rock album covers, it uses Smokehead's stunning typographical packaging to deliver a haunting and lasting impact."
Taking place at London's Victoria Park, High Voltage will be attended by thousands of hard core rockers, with the perfect combination of "Smoke and Coke" over ice, being served to VIP ticket holders and headline acts such as Emerson, Lake & Palmer, Wishbone Ash and ZZ Top.
2010 will be the second year Smokehead has sponsored the Classic Rock Roll of Honour. Attended last year by the likes of Brian May, Slash, Billy Gibbons and Jeff Beck, the 2010 awards are already shaping up to be even bigger. Smokehead will once again be served to rock royalty, with special bottle presentations of the award-winning 18 Years Old Smokehead Extra Black to the evening's winners.
Described as being like a cannonball, Smokehead is an explosive combination of peat, smoke and spice with some delicate sweetness. The single malt flavour is described as fresh, fruity and immense, with notes of sherry, iodine, toffee, smoke and sea salt. The taste hits the palate at once with cocoa, peat and some honey sweetness, before exploding with peppery spice and more earthy peat.
Smokehead is widely available throughout the UK and worldwide, RRP £31.99. Details of stockists, including Sainsbury's can be found on the website www.smokehead.co.uk
Curious to discover more, visit www.smokehead.co.uk
Smokehead Islay Single Malt Scotch Whisky encourages responsible drinking
www.drinkaware.co.uk www.scotch-whisky.org.uk
<< Back to all the latest whisky news brought to you by Planet Whiskies
Distillery of the Month: November 2023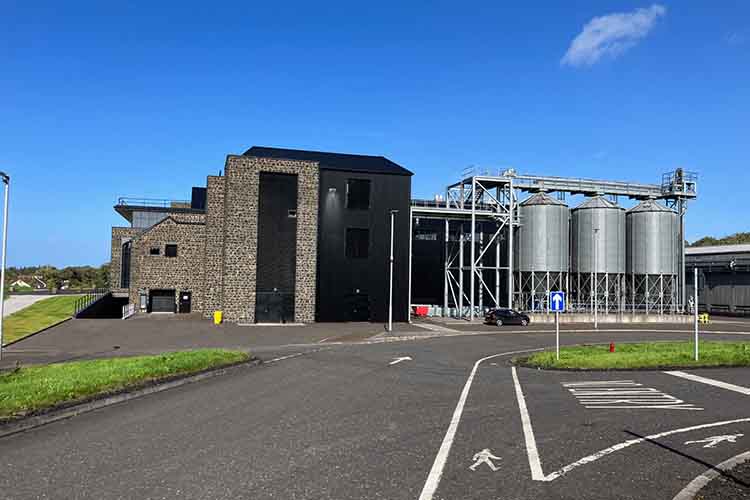 Planet Whiskies visited the new Bushmills Distillery in Northern Ireland on the 25th and 26th of September. Read our review of the experience of Bushmills and Northern Ireland at Planet Whiskies tour of Bushmills and Northern Ireland
You can also read the whole section about Bushmills Distillery at Bushmills Distillery Information on Planet Whiskies... So Bushmills is Planet Whiskies Distillery of the Month title for November 2023
Get Newsletter
Subscribe to our newsletter to get latest news, popular news and exclusive updates.