New Release On 4th October: Ardbeg Twenty Something Is A Vintage From The Distillery's Darkest Days
Published Date: 27th September 2018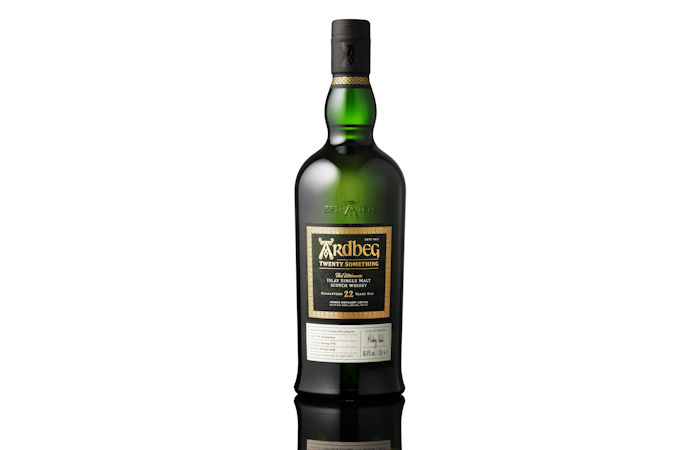 This rare 22 Year Old whisky pays tribute to those visionaries who helped keep Ardbeg's spirit alive
In October of this year, whisky lovers will have the opportunity to experience the third release in Ardbeg's exclusive Twenty Something collection – a superb 22 Year Old single malt bottled in honour of the handful of visionaries who helped keep the Distillery alive.  
This is a whisky that was born during a time when the iconic Ardbeg Distillery name was almost consigned to the history books.  In the 1980s and 1990s, production at the Ardbeg Distillery slowed to a trickle and its future hung in the balance. However, while the stills were often empty and the filling store silent, a small number of casks were tucked away by a handful of whisky enthusiasts with the belief and vision to keep Ardbeg alive. A young Mickey Heads, now Ardbeg's Distillery Manager, was among them. 
Today, Ardbeg's spirit endures thanks, in part, to the efforts of that small group of dreamers who believed in the Distillery. The loyal Ardbeg Committee, founded in 2000, also deserve recognition for their unwavering dedication to ensuring the doors of Ardbeg never close again. In honour of their support, it is Committee Members who will have the opportunity to experience Ardbeg Twenty Something, when a limited number of bottles go on sale in October 2018. 
Mickey Heads, Ardbeg Distillery Manager, said: "A sense of immense pride, hope and a touch of idealism were key ingredients in this whisky. Created with spirit from the retired Still which now stands in the Distillery courtyard, this bottle is a magnificent reminder as to why Ardbeg should never be allowed to disappear. Ardbeg Twenty Something is for those who believed wholeheartedly in the Ardbeg Distillery, which is why it's fitting that this rare whisky – a 22 Year Old – will be enjoyed by our loyal Committee Members, who maintain that same belief." 
Dr Bill Lumsden, Director of Distilling, Whisky Creation & Whisky Stocks at Ardbeg, went on to say: "The ex-Bourbon casks I selected for Ardbeg Twenty Something have delivered a beautiful dram, bursting with deep tropical aromas. It offers an incredibly flavourful, silky quality which is exceptional. I can think of no better way to celebrate those whisky lovers who helped keep Ardbeg alive during its darkest days." 
Ardbeg Twenty Something 2018 release will be available exclusively to Committee Members through www.ardbeg.com launching on 4th October, RRP: £440.
Tasting Notes:
Casks: Ex-Bourbon
Age: 22 Years Old
ABV:    46.4%
Colour: Pale gold 
Nose:  Luscious tropical fruits give way to sweet smoke, soot and tar. 
Taste:  At first, fresh green apple with a crumble topping. Notes of peppermint tea and sweet vanilla toffee flow into white pepper, clove, aniseed and eucalyptus oil. Then finally, some salty, woody tones.  
Finish: A long lingering, mouth-watering sweet smoke finish.
<< View more single malts from Ardbeg
<< Read about the Ardbeg Distillery
<< View Scottish Single Malts on Planet Whiskies
<< Back to all the latest whisky news brought to you by Planet Whiskies