Loch Lomond Whiskies Unveils Collection of Limited-Edition Chocolates in Time for Christmas
Published Date: 12th November 2021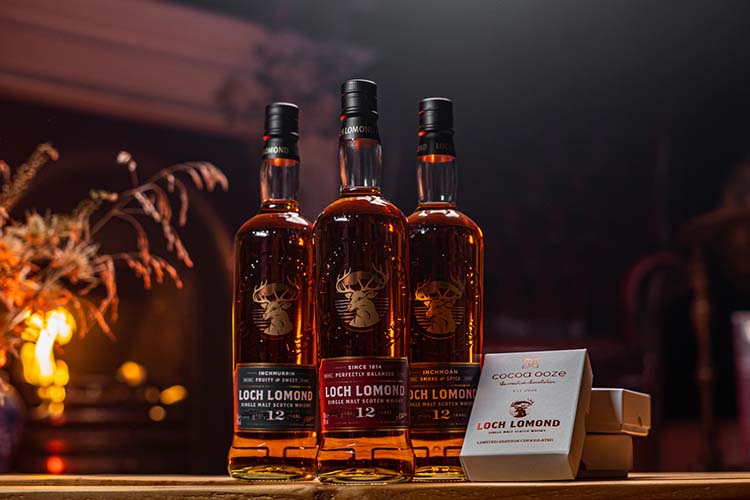 Loch Lomond Whiskies has collaborated with an artisan chocolatier to release an assortment of limited-edition whisky-paired chocolates.
The beautifully presented luxury truffles were handcrafted by Cocoa Ooze to pair perfectly with three 12 Year Old expressions by Loch Lomond Whiskies, each showcasing the flavour profiles of the distillery's signature style of fruit, honey and soft smoke.
The collaboration, set for release today (Thursday 11 November) in time for Christmas, is designed to accentuate the flavours and enhance the tasting experience of Loch Lomond 12 Year Old Perfectly Balanced, plus Loch Lomond 12 Year Old Inchmurrin and Loch Lomond 12 Year Old Inchmoan, both part of the Loch Lomond Islands Collection. Each whisky has been paired with bespoke chocolate truffles, designed to complement the hero flavours in each expression.
LOCH LOMOND 12 YEAR OLD PAIRED WITH MILK CHOCOLATE AND APRICOT
Whisky and chocolate lovers will find a real balance to these flavours, with the milk chocolate offering a soft and luxurious, velvety texture. Selected for its simplicity, the apricot also allows the fruit flavour of the whisky to really shine through. This perfectly balanced whisky has delicious notes of peach and pear layered with vanilla sweetness and a gentle hint of smoke on the finish.
Loch Lomond 12 Year Old paired with Milk Chocolate Apricot
70 cl, ABV 46%, RRP £40
LOCH LOMOND 12 YEAR OLD INCHMURRIN PAIRED WITH MILK CHOCOLATE, ORANGE AND CINNAMON
For this pairing, the orange flavours within the milk chocolate showcase the supercharged sweet elements of Loch Lomond 12 Year Old Inchmurrin. Cinnamon was also added to add complexity and compliment the delicious notes of peach, apricot, toffee and vanilla which this unique expression is famous for.
Loch Lomond 12 Year Old Inchmurrin paired with Milk Chocolate, Orange and Cinnamon
70 cl, ABV 46%, RRP £40
LOCH LOMOND 12 YEAR OLD INCHMOAN PAIRED WITH DARK CHOCOLATE AND SEA SALT
To accentuate the complex, warming spice elements of Loch Lomond Whiskies' smokey expression, Loch Lomond 12 Year Old Inchmoan, a rich dark chocolate base was selected as the canvas with a hint sea salt. This extraordinary combination of flavours creates a bittersweet taste, where the intricate ingredients marry together to offer an exciting tasting experience.
Inchmoan showcases the soft smoke and warming spice elements of the distillery's signature style with delicious notes of wood and peat smoke, roasted coffee, green apple with clove and aniseed spice on the finish.
Loch Lomond 12 Year Old Inchmoan paired with Dark Chocolate and Sea Salt
70 cl, ABV 46%, RRP £40
As part of the chocolate-pairing journey, Loch Lomond Whiskies' Master of the Quaich, Bill White, worked closely with Jamie Hutcheon, owner and master chocolatier at Cocoa Ooze, who founded his business in 2008 at the age of 17.
Documented in a short film, Bill and Jamie explore how flavours can work to complement and enhance one another, discuss optimum whisky and chocolate pairings, and delve into the synergies between chocolate production and whisky distilling.
The release of Loch Lomond Whiskies' dedicated chocolates marks the first in a series of collaborations designed to tell the story of flavour selection, with additional releases anticipated in spring 2022.
Bill White, Master of the Quaich at Loch Lomond Whiskies, said:
"While very different products, chocolate and whisky follow similar journeys. Both require high levels of craftsmanship, creativity and patience to reach perfection.
"There is a complexity to both processes, and even the slightest change can have a huge impact on the final flavour profiles.
"These age expressions are a great example of how we use different distilling techniques to showcase a spectrum of flavours here at Loch Lomond Whiskies. For this reason, it was crucial to take the time to find the right chocolate pairings which really enhance these flavours.
"Jamie's commitment to his craft is inspiring to see, and working with him has been a thoroughly enjoyable experience. I hope our limited-edition chocolates will take whisky enthusiasts on an exciting new journey to explore new flavours and better understand the complexities behind our craft."
Jamie Hutcheon, Founder at Cocoa Ooze, said:
"Cacao beans to make chocolate can take up to seven years to grow. Much like whisky distilling, time and patience are essential in creating the finished product.
"Balancing flavours is an intricate job, but the final product is beautifully simple. This collaboration with Loch Lomond Whiskies brings together the arts of distillation and tempering to create a unique and special product.
"Our base chocolate has notes of natural vanilla, nutty and earthy tones, which really balances the fruit, sweet honey and soft smoke of Loch Lomond Whiskies 12 Year Old expressions.
"It's been a pleasure working with Bill and the Loch Lomond Whiskies team, and a real testament to what can be achieved with creativity and imagination."
The Loch Lomond Whiskies Islands Collection captures the distiller's ingenuity in whisky making and the master blender's craft in emphasizing specific flavours. Each of the three expressions are distilled in a combination of traditional swan neck stills and unique straight-neck pot stills, which allow for greater control over the flavours.
To purchase Loch Lomond Whiskies flavour matched chocolates, please visit: Click here to buy Loch Lomond Whiskies flavour matched chocolates
Pricing details for each set can be found below:
Loch Lomond 12 Year Old Single Malt - £40
Loch Lomond Inchmurrin 12 Year Old Single Malt - £40
Loch Lomond Inchmoan 12 Year Old Single Malt - £40
A series of short films about the collaboration is available to view:
Watch Loch Lomond Inchmurrin 12 Year Old
More Whisky News