Award-Winning Loch Lomond Whiskies Unveils Steam & Fire: a Remarkable Single Malt Whisky Finished in Heavily Charred Casks
Published Date: 14th August 2023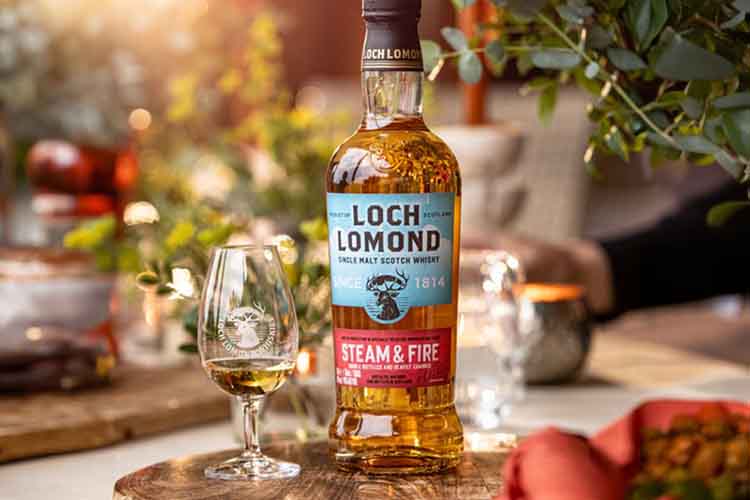 Steam & Fire pays homage to the extensive capabilities of the Loch Lomond Distillery
Independent distiller, Loch Lomond Whiskies, is adding to its impressive portfolio of whiskies with the launch of Steam & Fire.
A remarkable single malt whisky, Steam & Fire is finished in heavily charred American Oak casks, flamed at Loch Lomond Whiskies' own traditional cooperage.
It is an entirely new concept for the distiller and has been crafted to showcase its extensive capabilities in distillation and maturation. Steam & Fire takes its inspiration from the extraordinary distillery - a place where alchemy and engineering meet time-honoured craftsmanship to create an unusual whisky destination which is unlike anything else seen in the industry.
Located near the banks of the iconic Loch Lomond, the distillery is home to innovative feats of engineering, including Scotland's only set of Straight Neck Pot Stills. As the only distiller in Scotland to use these stills, Master Blender Michael Henry can influence flavour at the point of distillation, as well as during maturation.
It is also one only four in Scotland to house its own cooperage. A vibrant place where a team of experienced coopers repair and char barrels, it is the final stage in the whisky making process before casks are laid to rest.
Steam & Fire begins its journey being distilled in a combination of Straight Neck and traditional Swan Neck Pot Stills before maturing in first fill Bourbon barrels and refill American Oak casks. This exceptional single malt is then finished in heavily charred American Oak casks for 10 months.
The heavily charred American Oak barrels have a distinctive rich demerara sugar influence on the whisky, creating a rich flavour profile characterised by notes of orange, pear and melted brown sugar with a dark chocolate, and a soft smoke finish.
Steam and Fire is presented in bold packaging colours of blue and red, to reflect the brand colours and cooperage, with iconography from around the distillery illustrating the casks and unique stills.
Designed to hero Loch Lomond's extensive capabilities, the striking creative is intended to ignite an emotive response and bring to life the importance of both distillation and maturation in Loch Lomond's whisky
The release of Steam & Fire follows Loch Lomond Distillery's success at the globally renowned San Francisco World Spirits Competition 2023, winning the title of 'most awarded distillery'.
Michael Henry, Master Blender at Loch Lomond Whiskies, said: "Steam & Fire is unlike anything we have created at our distillery before.
"Intended to capture our extensive and unique capabilities in whisky making, it is a striking expression which speaks to the heart of what Loch Lomond Whiskies is trying to achieve and our ongoing experimentation with flavour.
"Steam & Fire is a representation of our quest to create whisky outside of the ordinary, bringing together our impressive capabilities in distillation and maturation."
The launch of Steam & Fire includes a collaboration with renowned open-fire chef Genevieve Taylor, who partnered with the distiller for its Remarkable Makers campaign, which sees Loch Lomond Whiskies partner with like-minded creators and artisan craftspeople to lift the lid on the complex whisky making process.
An accomplished chef, she is the author of 12 cookery books and is fascinated by the science of cooking over fire. Genevieve is inspired by her lifelong love of nature and sustainability, with her recipes specifically created based on the seasonality and locality of ingredients.
She said: "Fire as a method for cooking is a time-honoured craft, much like whisky making, which has survived for generations.
"It is such strong primal element and in many ways it can be unpredictable. Like a master blender, you have to very carefully control all of the variables to curate the final flavour you want.
"Too much wood creates a very distinctive smoky flavour, which can distract from delicate dishes, whereas pure charcoal allows the subtleties of ingredients to come to the fore. The slightest change in this balance has a profound impact on the final recipe."
Genevieve Taylor's passion for fire cooking is driven by a curiosity to explore the extraordinary. She continued: "Loch Lomond Whiskies and I share a curious spirit, and an eternal desire to seek out new possibilities in our crafts. The traditional domestic kitchen can be a wonderful place, but it can also be restricting to creativity and exploration.
"Fire cooking opened up a whole new world of possibilities, and allows me to experiment with flavour and techniques which are outside of the ordinary."
Steam & Fire launches 14 August and retails for £45.
It can be purchased at specialist retailers including Master of Malt, as well as directly from www.lochlomondwhiskies.co.uk
Tasting Notes for Loch Lomond's Steam and Fire:
Nose: Toffee, apple, fudge, vanilla, cinnamon.
Palette: Silky mouthfeel, orange, peach, marmalade, coffee, melted brown sugar, roasted marshmallow.
Finish: Medium to long dry finish with dark chocolate and soft smoke.
More Whisky News