Latest Whisky News - Last Johnnie Walker whisky bottled at Kilmarnock plant - BBC - 23th March, 2012
The below article is from the BBC website (link below). The Johnine Walker planet in Kilmarnock
The historic link between Kilmarnock and Johnnie Walker whisky has come to an end after 192 years.
On Friday, the last Red Label was bottled at the Ayrshire plant before the final shift clocked off.
The world's largest distiller, Diageo, announced in 2009 that it was closing the Kilmarnock facility, where more than 700 people were employed. Some staff are moving to other jobs, others have agreed to severance pay, and 82 are being made redundant. The closure announcement sparked local protests and an angry reaction from First Minister Alex Salmond. But he failed to persuade Diageo to keep the plant open.
Since then, nearly 200 staff have found other jobs with the company, most in Glasgow, with a few moving to the expanded bottling plant in Fife.
Workers laid flowers outside the plant in Kilmarnock
A total of 430 workers agreed to severance pay, and 82 have been forced into redundancy.
The last bottle of Johnnie Walker Red Label is destined for a local exhibition of the brand's history, which goes back to the first sale of Walker's Kilmarnock Whisky in 1820. A third of Diageo's land in the town is being given to Kilmarnock College, while it decides what to do with the rest of it. Staff at the plant are being invited back to a party this summer, when each will be presented with a limited edition special bottle of Johnnie Walker.
This article is from the BBC website and you can see the whole article in full at http://www.bbc.co.uk/news/uk-scotland-glasgow-west-17486173 . On this page you can watch a video of the final day at the plant.
<< Back to all the latest whisky news brought to you by Planet Whiskies
Distillery of the Month: November 2023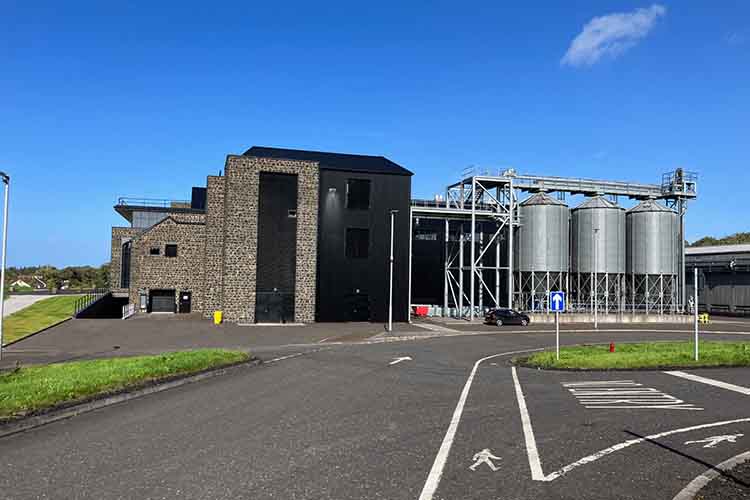 Planet Whiskies visited the new Bushmills Distillery in Northern Ireland on the 25th and 26th of September. Read our review of the experience of Bushmills and Northern Ireland at Planet Whiskies tour of Bushmills and Northern Ireland
You can also read the whole section about Bushmills Distillery at Bushmills Distillery Information on Planet Whiskies... So Bushmills is Planet Whiskies Distillery of the Month title for November 2023
Get Newsletter
Subscribe to our newsletter to get latest news, popular news and exclusive updates.