Irish Whiskey Cheer Continues As Jameson Reveals New Limited Edition For St. Patrick's Day - 7th Feb, 2014

Jameson, the world's favourite Irish whiskey, is celebrating its rich Irish heritage ahead of St Patrick's Day with the release of a new Limited Edition design for its iconic bottle, inspired by the sights, sounds and atmosphere of its hometown, Dublin.
The new limited edition bottle, which is the fourth to be released by Jameson in celebration of St Patrick's Day, has been designed by award-winning Irish illustrator, Dermot Flynn, and will be sold in 40 markets worldwide – demonstrating the continued growth and popularity for Irish whiskey, driven by the ever-increasing popularity of this iconic brand.
Dermot's illustrated label features the world-renowned Dublin pub, The Stag's Head; historical figures such as W.B Yeats; and a selection of 'local Dublin' phrases to bring the city to life. The bottle has been created for this limited period and will be available in Travel Retail and through on and off trade customers in markets including Russia, Japan and Australia from February 2014.
Daniel Lundberg, Global Brand Director for Jameson
Daniel Lundberg, Global Brand Director for Jameson, says: "In addition to its smooth, balanced taste, one of the things that whiskey fans around the world tell us they love about Jameson is its intrinsic Irish character. Jameson embodies the down-to-earth character of Dubliners so with this new limited edition, we wanted to bring that to life and celebrate the great city which inspired John Jameson to make his now iconic whiskey for the first time over 230 years ago. The new bottle design has been very well-received by our customers around the world resulting in more markets than ever selling this year's edition, so we're hopeful that Irish whiskey fans around the world will love it too and make it a part of their special St Patrick's Day celebrations, wherever they may be."
The release of the new Jameson Limited Edition will be accompanied by promotional activity in markets, with the brand providing its customers with a range of marketing materials and displays to ensure strong stand-out for the iconic bottle in the run up to St Patrick's Day, which is celebrated each year on 17th March.
Jameson will be continuing its popular Jameson St Patrick's Live celebrations this year with activity including its annual Live Broadcast, which sees presenters from radio stations from around the world descending on Dublin to broadcast live from the Old Jameson Distillery on St Patrick's Day; and an exclusive gig in the city, featuring various leading Irish acts and headlined by the critically-acclaimed band, White Lies.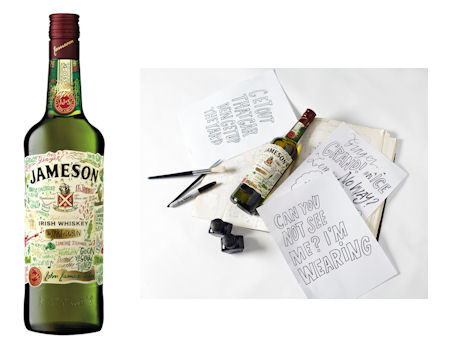 << Back to all the latest new brought to you by Planet Whiskies