50 Years Of A Unique Spirit: Introducing Loch Lomond 50 Year Old: 7th October 2017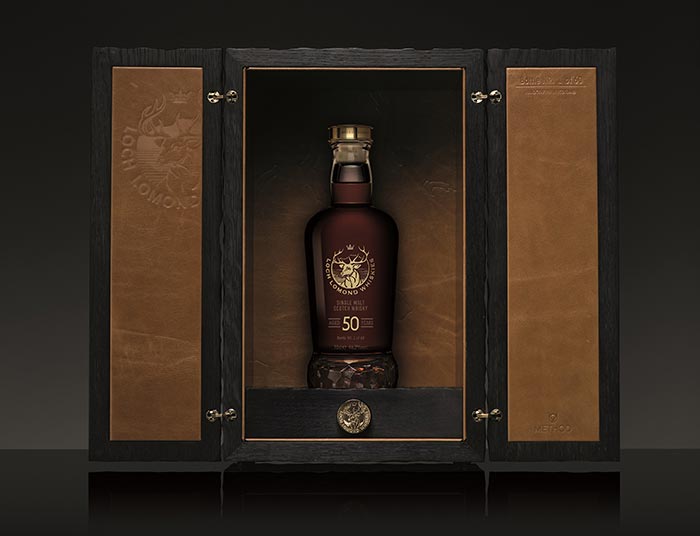 Loch Lomond Distillery is to release its oldest and rarest single malt whisky.
Limited to 60 decanters worldwide, the Loch Lomond 50 Year Old celebrates generations of dedication and craftsmanship and marks the pinnacle of the Loch Lomond Whiskies collection.
Borne of a place of rare beauty where the Scottish Highlands meet the Lowlands, this expertly crafted single malt was distilled in 1967 in the distillery's remarkable straight neck stills, drawn from a single cask and bottled at 46.2% abv.
It has been quietly maturing, first in American oak hogshead and then in European oak hogshead for half a century at Loch Lomond Distillery in Alexandria, to create a whisky brimming with rich oak spice and tropical fruit, naturally deep amber in colour with beautiful clarity. 
The distinctive nature of the Loch Lomond 50 Year Old is testament to the innovative distillation techniques, explains John Peterson, Production Director at Loch Lomond Distillery: "Our straight neck pot stills were unique in 1966 when they were first installed, and they are still unique to this day, providing us with greater control over the quality and flavour profile of the spirit."
Crafting the Loch Lomond 50 Year Old single malt has been the work of Loch Lomond Master Blender, Michael Henry. He said: "The expectations are high when you are working with a whisky as special and scarce as this and it came with great responsibility, but selecting and perfecting this single malt was a true honour.  Our stills are synonymous with the fruity notes they give to the whisky. The Loch Lomond 50 Year Old has been granted the time to truly concentrate that character, resulting in a rich, tropical fruit flavour."
Each hand-blown crystal decanter encasing the Loch Lomond 50 Year Old is presented in a bespoke chest created by 'architects of objects', Method Studio in Scotland.  The husband and wife team, Callum Robinson and Marisa Giannasi drew inspiration from the drama, romance and kinetic energy of Loch Lomond itself to create 'The Tempest Chest.'
Hand-shaped in solid oak, leather lined and indigo-dyed until almost black in colour, the tactile, sculpted surface of each individually numbered chest is suggestive of water at twilight, with only a solid brass key visible from the exterior, mysteriously emerging from the surface to build intrigue. Inside, the bottle of Loch Lomond 50 Year Old rests carefully upon sculpted oak waves, alongside not an ordinary whisky miniature, but a solid turned brass vial, lined in glass and reminiscent of the straight neck pot still. 
Callum Robinson, Creative Director at Method Studio, said: "There are few distilleries named after a body of water as opposed to a place, and we drew great inspiration from Scotland's most romantic, dramatic and historic loch. The Loch Lomond 50 Year Old is borne out of a truly mystical place of wood, fire, water and metal and our aim was to harness this energetic, elemental group of ingredients to create something unique, and worthy of its heritage.
"Each chest is designed to capture, in a three dimensional object, the mood and movement of moonlight dancing on tempestuous water. This is mirrored in the language of the hand-blown decanter and its beautifully faceted hand-cut base, perfectly binding the two together. It was a privilege to create a vessel to house something so precious."
Loch Lomond is a very special part of the world and Loch Lomond Whiskies take their influence from the physical beauty of their unique location.
Colin Matthews, CEO of Loch Lomond Group, said: "For 50 years the Loch Lomond Distillery has been one of Scotland's best kept secrets.  With the launch of the 50 Year Old single malt, we are putting Loch Lomond firmly on the Scotch whisky map and we are proud to become one of a very select few distilleries in the world which have released a 50 year old whisky."  
The Loch Lomond 50 Year Old limited edition is priced at £12,000 and will be available to buy in the UK at the most prestigious independent specialists including The Whisky Shop, The Whisky Exchange, Royal Mile Whiskies and Master of Malt from December 2017.  It will also be on offer in global markets, including Singapore, Taiwan, China, Japan and Travel Retail. It can be pre-ordered by contacting fifty@lochlomondgroup.com
For further information visit www.lochlomondwhiskies.com
Tasting Notes for Loch Lomond 50 Year Old

NOSE - Heady oak spice of clove and cinnamon with sweeter notes of sultanas and raisins with creamy vanilla fudge.
TASTE - Silky mouthfeel rolls over the tongue. Intense vibrant tropical fruit, fresh pineapple and ripe banana with a honey sweetness.
FINISH - Warming stem ginger, bursts of gooseberry and elderflower and waves of tangy grapefruit citrus.
<< View Loch Lomond Single Malt Whisky
<< Back to all the latest whisky news brought to you by Planet Whiskies
Distillery of the Month: November 2023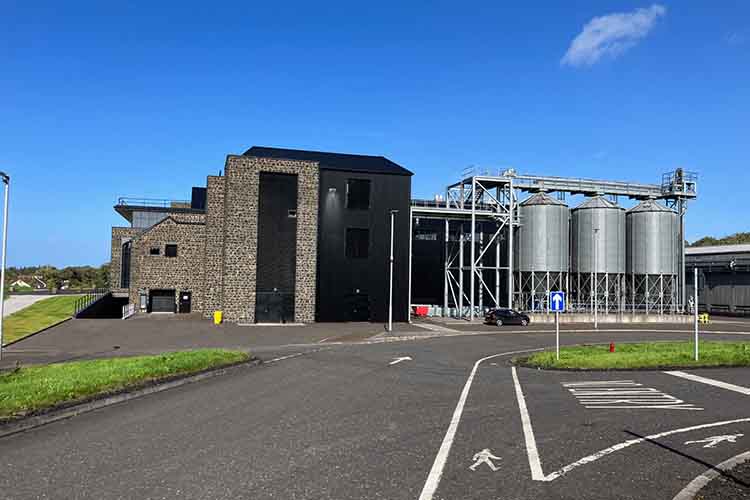 Planet Whiskies visited the new Bushmills Distillery in Northern Ireland on the 25th and 26th of September. Read our review of the experience of Bushmills and Northern Ireland at Planet Whiskies tour of Bushmills and Northern Ireland
You can also read the whole section about Bushmills Distillery at Bushmills Distillery Information on Planet Whiskies... So Bushmills is Planet Whiskies Distillery of the Month title for November 2023
Get Newsletter
Subscribe to our newsletter to get latest news, popular news and exclusive updates.