GreatDrams' Winter 2020 Outturn Available Now: Three great new releases from GreatDrams
Published Date: 17th August 2020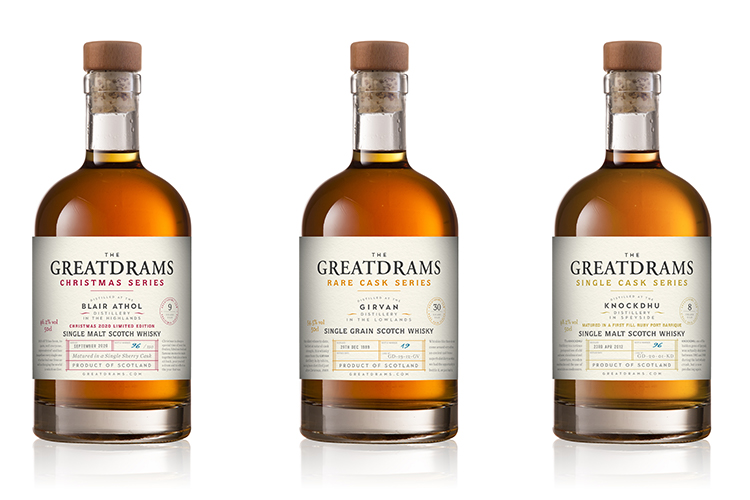 We don't do many press releases, but as an award-winning small independent bottler, we wanted to get the message out about our new Winter 2020 outturn as they are all very different and have all been driven by consumer feedback and requests (sometimes demands!).
"Despite all the surreal times, tough times and frankly sad times we have all been through during 2020, the last twelve months have been an exciting year for GreatDrams as a business; we have started exporting our limited edition whiskies abroad, we have rebuilt our website and brand from the ground up, we have refocussed the company to offer more bottlings than ever before, to act as a cask brokerage too and we through challenging times we have built a thriving online virtual whisky (and gin) tasting platform too" - Greg Dillon, co-founder of GreatDrams.
As a company of two people, husband and wife duo Greg & Kirsty Dillon, we are able to be really nimble when it comes to what we do with our range, what we release and when we release new limited edition whiskies.
"Every whisky we release is limited edition, never repeated and never released for the sake of it", as Kirsty likes to explain, "we deliberately set the company up to only release small releases of each product a it keeps it interesting for us, and for our customers who come back time and again, and really shape what we do as a business".
And now we have three new releases going into the final few months of the year.
KNOCKDHU SINGLE CASK SINGLE MALT SCOTCH WHISKY
This whisky is the first Port Cask-matured single malt we have released, having spent its whole maturation period in a First Fill Ruby Port Barrique. The flavour profile, a thick spirit owing to reduced reflux in the stills and the use of worm tubs in the process, is full of with luscious berry fruity notes and an indulgent dark chocolate note has a thick, creamy mouthfeel that will bring you back time and again.
"For the lucky few who have already got their bottles of this release, virtually all have said its their favourite of our releases to date; the rich flavour profile is stunning and we have been blown away by the positivity received for our Knockdhu already," notes Greg.
Age: 8 Years Old | Distilled: 23rd April 2012 | ABV: 48.2% | Only 183 bottles ever released
CHRISTMAS 2020 SPECIAL RELEASE SINGLE CASK SINGLE MALT SCOTCH WHISKY
This much anticipated, and requested, Christmas Series release is a Single Cask Single Malt whisky from the Blair Athol Distillery in the Highlands. For this release we wanted something truly indulgent and Christmassy with a lovely sherried character to it – big winter fruit notes, some zesty orange and lime and subtle, soothing spice and a hint of marzipan notes create a luxurious flavour profile to conjure the flavour of Christmas cake, and with it a dram to reminisce with and to celebrate with those you love, no matter how surreal the year has been.
"Last year our Christmas release sold out in nine days which was hugely unexpected, so we are excited to see what happens with it this year!" - Kirsty
Age: 9 Years Old | ABV: 46.2% | Only 150 bottles ever released
GIRVAN 30 YEAR OLD SINGLE CASK SINGLE GRAIN SCOTCH WHISKY
An ancient grain whisky from the Girvan Distillery – distilled in 1989, this 30 Year Old has spent thirty years patiently sleeping, maturing, developing… This limited edition Girvan 30 Year Old Single Cask Single Grain Scotch Whisky bottling is a release of just 96 bottles globally. With fruity and buttery notes being the most forward, a lovely vanilla sweetness develops on the palate to give a luxurious texture, and a rather indulgent whisky to sip, savour and celebrate with.
Our oldest release to date, bottled at natural cask strength, this whisky comes from the Girvan distillery in Ayrshire, having been distilled just after Christmas, 1989.
Age: 30 Years Old | ABV: 54.5% | Only 96 bottles ever released
All our releases are non-chill filtered and of natural colour.
"We have been toying with when to release our ancient Girvan for a while now and it felt right to do so now as it is just over 30 years old, is so rich and luxurious in its flavour composition and, frankly, like all our releases, we fell in love with it… who doesn't love an ancient grain whisky?!" - Greg
In addition to new releases, GreatDrams is now taking bookings for private virtual whisky and gin tastings September through December, so far since lockdown was announced GreatDrams' virtual tastings - public and private - have had over 2,000 participants and has added a fun dimension to what we do. Greg notes that he "never expected to do virtual tastings, and set the first one up as a way to get around 20 people to have a drink with him to alleviate the monotony of lockdown and it just spiralled from there".
To get in touch and talk whisky contact info@greatdrams.com or to buy limited edition whisky www.greatdrams.com/whisky-shop
More Whisky News
Distillery of the Month: November 2023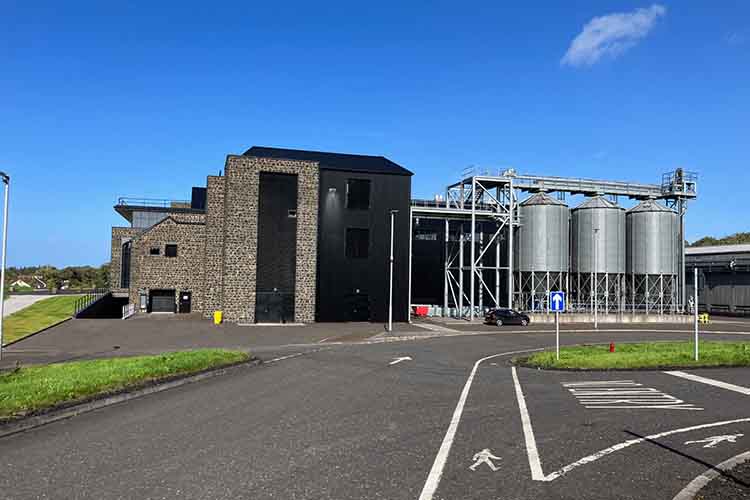 Planet Whiskies visited the new Bushmills Distillery in Northern Ireland on the 25th and 26th of September. Read our review of the experience of Bushmills and Northern Ireland at Planet Whiskies tour of Bushmills and Northern Ireland
You can also read the whole section about Bushmills Distillery at Bushmills Distillery Information on Planet Whiskies... So Bushmills is Planet Whiskies Distillery of the Month title for November 2023
Get Newsletter
Subscribe to our newsletter to get latest news, popular news and exclusive updates.