Glenfiddich Elevates Flagship Range With Sophisticated Redesign for 12 and 15 year old bottles.
World's Most Awarded Single Malt Scotch Whisky takes signature 12 and 15 Year Old expressions to the next level
Published Date: 18th June 2019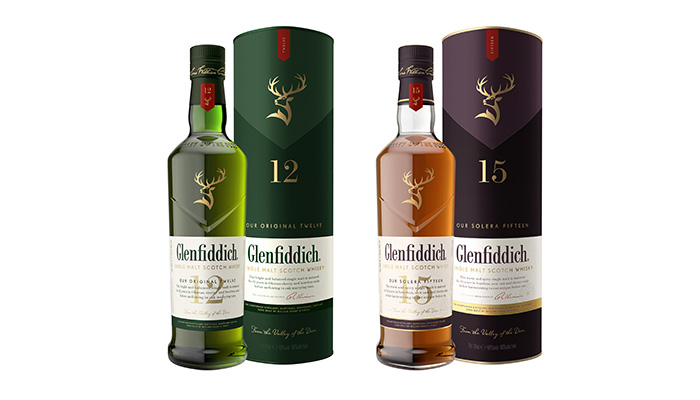 18th June 2019, Dufftown: Glenfiddich, the World's Most Awarded Single Malt Scotch Whisky, pays homage to its origins in the Valley of the Deer with a striking new package design for its 12 and 15 Year Old iconic whiskies. The new packaging will be rolled out in the UK and US to begin with from 18th June 2019, with Small Batch 18 Year Old following suit in 2020. 
The bold new look celebrates Glenfiddich's maverick beginnings and family-run heritage and combines it with a more sophisticated and elegant design. The 12 Year Old has been given a refined makeover and is now known as the 'Our Original Twelve', as a clear nod to the brand's signature expression. Whereas the 15 Year Old is rebranded as the 'Our Solera Fifteen', as a more overt celebration of the Solera system, which is a true innovation in the whisky industry. The redesign provides a fresh and distinctive new look, creates standout and is intended to appeal to current drinkers as well as entice those around the world who are new to the brand and category.  
Glenfiddich means "The Valley of The Deer" and its location in Speyside, Scotland, is where William Grant, Glenfiddich's visionary founder, turned his dreams into reality in 1887 by hand-building the distillery with the help of his seven sons and two daughters in a single year. In honour of the brand's home, the new design now features this clearly defined valley, cut into the face of the glass, to give a more chiselled profile. The iconic Stag symbol, embossed in gold, also proudly sits within the V of the valley shape. William Grant's signature is gold emblazoned on the bottle top. 
Claudia Falcone, Glenfiddich Global Brand Director said: "We wanted to emphasise Glenfiddich's special provenance and unique heritage with this stylish new design, drawing cues from the special place where our liquid is produced. Our flagship range of expressions are some of the world's best-selling and most awarded single malts, so it was really important to reflect the undoubted quality of the liquid with a stunning and contemporary look." 
Ifan Jenkins, UK Marketing Director comments: "We are delighted that the UK has been chosen as first to market for the iconic new Glenfiddich packaging. As the number one single malt whisky in both Scotland and across the UK, Glenfiddich is a flagship brand that we are immensely proud of and we will continue to push the boundaries with our beautiful new visual identity and disruptive activations." 
Glenfiddich's signature malt, 'Our Original Twelve', is matured in the finest Oloroso sherry and bourbon casks and uniquely married in oak tuns for at least 12 years, to give a beautifully balanced nose complemented by refreshingly rich and complex notes of fresh pear and subtle oak. The Glenfiddich 15 Year Old, now proudly called 'Our Solera Fifteen' is a single malt innovation first pioneered in 1998. The Solera system marries whiskies matured in sherry, bourbon and new oak casks. Always kept at least half full, the Solera Vat creates a harmonious whisky with deep layers of warm spice, honey and fruit, that gets richer and more complex every year.  
Glenfiddich's Malt Master, Brian Kinsman added: "These whiskies are crafted to ensure the highest quality taste and flavour, the complexities of which are influenced by the River Spey and surrounding landscape. It's great to honour this provenance and the historic home of Glenfiddich in such a refined way." 
The new packaging has been designed by award-winning East London design agency HERE design.  
Available in retail outlets from Tuesday 18th June 2019, Glenfiddich Our Original Twelve has a recommended retail price of £38 and Glenfiddich Our Solera Fifteen has a recommended retail price of £42.
<< Buy Glenfiddich malt whisky online
<< Read more about the Glenfiddich Distillery
<< View Scottish Single Malts on Planet Whiskies
<< Back to all the latest whisky news brought to you by Planet Whiskies
Distillery of the Month: November 2023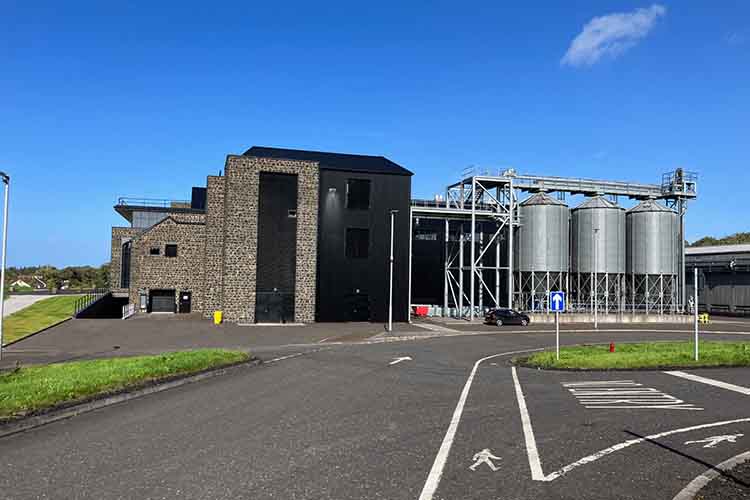 Planet Whiskies visited the new Bushmills Distillery in Northern Ireland on the 25th and 26th of September. Read our review of the experience of Bushmills and Northern Ireland at Planet Whiskies tour of Bushmills and Northern Ireland
You can also read the whole section about Bushmills Distillery at Bushmills Distillery Information on Planet Whiskies... So Bushmills is Planet Whiskies Distillery of the Month title for November 2023
Get Newsletter
Subscribe to our newsletter to get latest news, popular news and exclusive updates.