Finalists announced in the Spirit of Speyside Festival Whisky Awards 2019- Now public must vote for winners
Published Date: 6th November 2018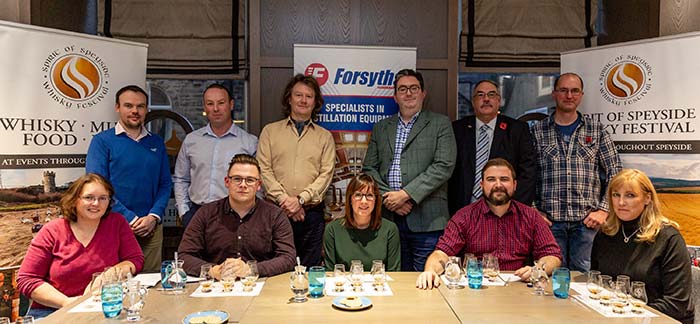 Battle lines have been drawn in an annual contest to find the best whiskies in Scotland's most prolific whisky-producing region. Judges have selected eight finalists in the Spirit of Speyside Whisky Festival Awards – and are now handing the difficult task of crowning the best of the best to the public.
A panel of industry experts and drinks writers sampled dozens of drams from across the region, whittling the malts down into a shortlist that whisky fans will be able to sample in a blind taste test at sessions taking place in North America, Europe and across the UK.
In the 12 year and under category, Benromach 10 year old will go up against Cardhu 12 year old, while in the contest for malts aged 13 to 20 years, another Benromach – the 15 year old – will battle it out with Glen Grant 15 year old.
Glenlivet 21 year old will take on Aultmore 21 year old in the 21 year old and over category, and in the non-age statement class it is a head-to-head between Tamdhu Dalbeallie Dram and Glen Moray Classic Cabernet Finish.
The Spirit of Speyside Whisky Festival Awards are a key feature of the annual festival, which next takes place from May 1 to 6, 2019. Comprising over 500 events across Speyside – home to some of the world's most recognisable whisky brands – it has become a bucket list event for aficionados.
Festival director Julie Fraser, who is responsible for organising the awards, said: "We have been lucky enough to sample some exquisite drams and yet again our distillers have blown apart the myth that a typical Speyside whisky exists. From floral to peated, the whole spectrum of flavour is there.
"We've been running the whisky awards as part of the festival for many years now and it's always a very competitive event. They are different from others in the industry in that the winners are voted for by the whisky-drinking public, and not by a panel.
"Distillers think very highly of these awards: they consider it a real honour to win one because it is the people who will actually go out and buy a bottle or order it in a bar who are endorsing their product.
"The eight selected finalists are truly outstanding drams. I know that people who go along to our judging sessions at home and abroad will really enjoy them – but they will have a very difficult task in selecting a winner in each category."
Judging sessions take place at the festival itself, but in recent years panels have been staged at a host of international locations. Over the next few months, the whistle-stop tour for the roving judging sessions will take in cities including New York, Malmo, Cologne, Rome, New Brunswick, Amsterdam and Paris, as well as Edinburgh, Glasgow, Belfast and London.
All of the results cast on the road will be added to those made at the festival. The overall winners will be announced at a ceilidh which will bring the curtain down on event and six days of whisky, food and fun.
As well as offering unique experiences for those passionate about whisky, such as the chance to visit distilleries not normally open to the public and meet with key individuals from the industry, the programme also has lots to entertain those with a passing interest in whisky – or none at all.
Events include dinners and food tasting, music and dancing, outdoor and heritage attractions, as well as local community events. The full programme for the festival, including details of the whisky awards judging sessions, will be announced early in 2019 at www.spiritofspeyside.com
<< View Scottish Single Malts on Planet Whiskies
<< Back to all the latest whisky news brought to you by Planet Whiskies