Scottish marketing stars shine at national awards
Published Date: 1st June 2009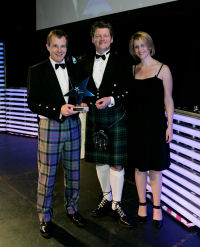 The Famous Grouse, Scotland's best selling whisky, picked up the title of 'Best Scottish Brand for Past 50 years" at this year's Marketing Society Scotland's 2009 Star Awards.
Creative talent from Scotland's marketing industry - public and private companies on both client and agency sides – were out in force for the Awards ceremony at The Old Fruitmarket in Glasgow's Merchant City on 29th May, which was hosted by comedian Fred MacAulay.
The Star Awards, sponsored by Tangible Group and now in their fifth year, are aimed at celebrating the most dynamic marketing campaigns in Scotland and this year received a record 191 entries across 27 categories.
This unique award was created to mark the 50th Anniversary of the Marketing Society and invited the industry to vote via text and email for the Best Scottish Brand from over the last 50 Years. A panel of judges selected a shortlist of six finalists from the many nominations received which included: Tunnocks, Irn Bru, Johnnie Walker, Baxters and Tennents.
The criteria the judges used in their selection included the importance of the brand to the Scottish economy and culture as well as its durability, its relevance today and its demonstration of marketing excellence over the years.
Gerry O'Donnell, director of The Famous Grouse, said: "It is a great honour to receive this award, especially when it has been voted for by our peers in the industry. We were up against a great calibre of Scottish companies and so we are delighted to have been recognised in this way."
The Famous Grouse also collected the award for 'Business Innovation' following the successful launch of the new addition to its portfolio – The Black Grouse – a blend of
The Famous Grouse with Islay whiskies to create a smoky, peaty blend. While Bill Farrar, the sales and marketing director of The Edrington Group, owners of The Famous Grouse, picked up the title of 'Marketer of the Year'.
Other winners on the night included: The Leith Agency, s1, The Edrington Group, Business Stream, ScottishPower, Ignition Marketing, Elmwood, Tayburn/Tenon, Merle Agency, Story UK, VisitScotland, Golley Slater, MediaCom Scotland, Scottish & Newcastle, Denvir and OSL.
Graeme Atha, Director of the Marketing Society Scotland Star Awards 2009, said: "The Awards are all about celebrating creativity, innovation and results – after all a good marketing campaign is one which delivers. The diverse range of our winners reflects the flair that exists with the industry in Scotland, and celebrates the role marketing plays within business and the community."
There are 27 Star Award categories in total. The full list of winners can be found at: www.marketingsocietyscotland.com/stars09 (Sorry website now not available)
<< Back to all the latest whisky news brought to you by Planet Whiskies