Eden Mill's premium whisky portfolio: Eden Mill Unveils New Look Bourbon And Sherry Matured Single Malts
Published Date: 14th November 2023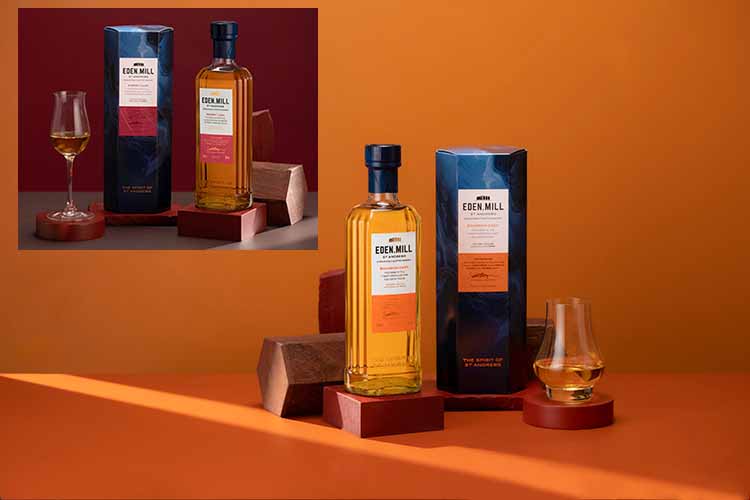 Independent Scottish distiller Eden Mill St Andrews has announced two exclusive new signature single malts, bolstering its premium whisky portfolio.
Crafted by head distiller Scott Ferguson at the original Eden Mill distillery – which will soon be moving to its new site after an extensive, multi-million-pound refurbishment – the new expressions are a Bourbon Cask release, matured in the finest American Oak casks, and a Sherry Cask release, finished in first-fill Oloroso and Pedro Ximénez casks.
Both new single malts celebrate the nuanced flavour profile influences of the cask maturation in bourbon and sherry and showcase how the new Eden Mill spirit stands up in both. The two single malts are natural in colour, non-chill filtered and bottled with an ABV of 46%.
The new whiskies will become part of Eden Mill's core range offering, available year-round and complemented by additional annual and limited releases like their Art of St Andrews series.
Ferguson commented: "These new expressions are unique in that they come from the old Eden Mill distillery which will never reopen. With the new distillery opening in 2024, the original whisky is truly limited with fewer than 400 casks of this precious liquid remaining.
"Both deliver a stunning flavour profile, each with their own very distinct characteristics. The Bourbon Cask, which is Eden Mill's first release to mature exclusively in bourbon from start to finish, has a unique spicy and sweet vanilla profile – think light spice meets caramel and fruit crumble, while the Sherry Cask is reminiscent of chocolate raisins, dates and subtle cassia spice.
"Whilst they will no doubt appeal to classic malt lovers and those who appreciate a premium non-aged single malt, we're also expecting a high level of interest from those curious to seek out new single malts outside of the more well-known big-name brands."
The Bourbon Cask and Sherry Cask single malts also officially launch Eden Mill's refreshed brand identity and are the first to come in the new-look single malt bottle.
Hannah Ingram, head of marketing at Eden Mill said: "Our signature single malts mark the start of an exciting new whisky chapter for us. Until now, our releases have been annual and launched in small quantities, but these two new expressions will be 'always on' in our range and carry us through the coming years until the whisky produced in our new distillery has matured and is ready for bottling.
"Given the significance of these two new whiskies, we felt it was the right time to evolve the look and feel of the bottle. The sides of the new bottle have ridges which represent the striking silhouette of the roof of our new distillery, and it is embossed with our new tagline: The Spirit of St Andrews. The cartons have a beautiful, rich blue texture that evokes the waters of the Eden Estuary that surrounds us, with distinct colour flashes to differentiate the two releases."
The two new single malts are available via Eden Mill, Master of Malt and leading specialist whisky retailers.
The Bourbon Cask Single Malt is priced at £55 (70cl / ABV 46%) and the Sherry Cask Single Malt is £65 (70cl / ABV 46%).
For more information, please visit the website Eden Mill Website
More Whisky News