Chivas Brothers - Sentebale Polo Cup sponsored by Royal Salute
Published Date: 23rd May 2011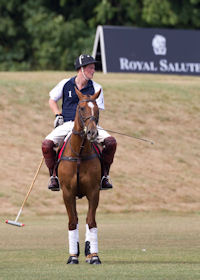 Luxury Scotch whisky Royal Salute is proud to announce its official support as title sponsor of the Sentebale Polo Cup, which will take place on Sunday 12 June 2011 at the stunning Coworth Park in Berkshire, England.
Playing at the Sentebale Polo Cup sponsored by Royal Salute will be the co-founder of the charity, Prince Harry and his brother the Duke of Cambridge. The brothers will play on opposing teams in what promises to be a thrilling and closely fought contest attended by distinguished guests from all over the world.
A keen follower of polo, His Grace Torquhil Ian Campbell, the 13th Duke of Argyll will also join the crowd during the three-game round robin which will be followed by a VIP dinner and after party hosted by Royal Salute.
Christian Porta, Chairman and CEO, Chivas Brothers says, "We are delighted to be welcoming such an esteemed group of guests at Royal Salute's first partnership with Sentebale. Royal Salute is honoured and delighted to be partnering with Sentebale so that they may continue their noble work for the people of Lesotho."
Sentebale was founded by Prince Harry and Prince Seeiso from the Lesotho Royal family in response to the plight of the neediest and most vulnerable of Lesotho's people.
The Sentebale Polo Cup sponsored by Royal Salute further highlights the whisky brand's growing commitment to international polo, with sponsorships of some of the world's most prestigious polo events currently spanning China, India, Dubai, Brazil, and the UK.
<< Back to all the latest whisky news brought to you by Planet Whiskies