Chivas 12 magnum by Christian Lacroix takes top design prize at prestigious Monaco Luxepack exhibition
Published Date: 27th November 2009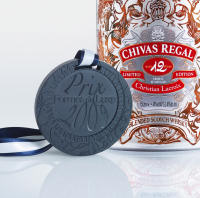 27.11.09 - Hot on the heels of the unveiling of their high profile design collaboration, Chivas Regal and Christian Lacroix are celebrating winning the Jury Prize at the Monaco Formes de Luxe 2009 Awards for its stunningly designed Chivas 12 Magnum by Christian Lacroix. It is the first time that such an award has ever been presented to a spirit brand, recognising both partners' innovative and bold approach.
The Formes de Luxe awards in Monaco are presented each year as part of the Monaco Luxe Pack international exhibition to the most exceptional examples of packaging in 14 categories including glassware, wine and spirits packaging, perfume packaging, promotional materials, fine food packaging, make up and innovative decoration.
The Limited Edition bottle won the special 'Jury Prize' award having been judged as the best entry across all categories by a panel of experts. Triumphing over a shortlist of 30 other entries including international brands such as Dior, Guerlain, Hermès, Dom Perignon and Shiseido, the jury panel was united in its praise for the winner, commenting: "The Chivas Regal 12 Lacroix bottle is remarkable. We were extremely impressed with the technical execution, the overall look and feel but also with the meticulous attention to detail".
Chivas Regal Global Brand Director Sophie Gallois comments: "There is a huge buzz surrounding this Chivas Regal limited edition and we now have an international waiting list for this product. Today's discerning consumers are looking for authentic products. What better than the original luxury Scotch whisky in an iconic bottle designed by one of the world's most famous designers? To receive this award is wonderful news for the team at Chivas Regal and a tribute to the creative genius of Monsieur Lacroix."
Each of the limited edition bottles is produced using a unique laser metallisation technique developed by French based Solev Company to precisely deliver the lavish and sophisticated design created by Christian Lacroix. The Chivas 12 Magnum by Christian Lacroix, with its dramatic design, is the most striking example of a luxury partnership in the spirits category in 2009 and retails at the RRP of £125.
Luxe Pack is the international leading exhibition for luxury goods packaging covering premium sectors such as cosmetics, perfumes, wine and spirits, fine food and jewellery. The exhibition takes place annually in Monaco, Shanghai and New York and sees the most innovative designers and brands come together in the spirit of creativity.
<< Back to all the latest whisky news brought to you by Planet Whiskies