Bushmills Irish Whiskey introduces new limited-edition single malt aged in indestructible Acacia wood casks
Published Date: 12th December 2018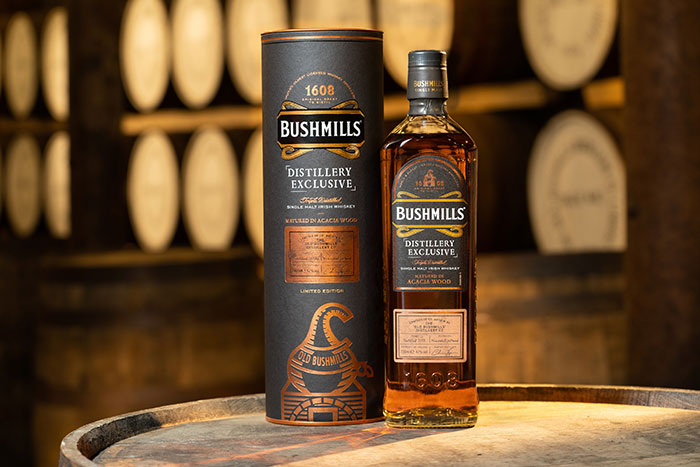 Bushmills, Co. Antrim, 12th December 2018: Bushmills® Irish Whiskey has released BUSHMILLS DISTILLERY EXCLUSIVE, a limited edition single malt whiskey aged in Acacia wood. Only available for purchase at The Old Bushmills Distillery, the unique release marks another innovation in Irish single malts from the world's oldest licensed whiskey distillery.  
With only 12,000 bottles available in its first release, the DISTILLERY EXCLUSIVE is a non-chill filtered single malt whiskey with a higher ABV strength of 47%. The whiskey is first matured in charred bourbon barrels and toasted sherry casks, and then aged in Acacia wood for more than a year.  Acacia wood has existed on Earth for more than 20 million years – a testament to its indestructibility. This is the first time Bushmills Irish Whiskey has matured whiskey in Acacia. 
Helen Mullholland, Master Blender at Bushmills Irish Whiskey, said: "As the world's oldest licensed whiskey distillery, it was only natural that we create a whiskey using one of the world's oldest woods. We are always exploring new ideas and looking for new woods to experiment with, so we were keen to work with Acacia, as the product imparts a spicy, vanilla flavour into our famous whiskey. The taste of the DISTILLERY EXCLUSIVE is subtly spiced by the casks, with warming hints of nutmeg. The liquid features honey and floral notes complemented by sweet vanilla and dried fruit flavours, finishing with a hint of cinnamon and a whisper of wood." 
Bushmills Irish Whiskey continues to achieve success with its single malts. As the world's largest malt Irish whiskey brand, the Bushmills portfolio currently includes the BUSHMILLS 10 Year Old Single Malt, BUSHMILLS 16 Year Old Single MalT and the BUSHMILLS 21 Year Old Single MalT, as well as THE STEAMSHIP COLLECTION™, a limited range of rare single malts available exclusively in global travel retail. 
Mullholland adds: "We continue to see a demand for ultra-premium expressions, and with more than 120,000 visitors to The Old Bushmills Distillery each year, they like to see something special they can only find in our store. With more than 400 years of whiskey-making heritage to our name and as one of the first distilleries to create a single malt whiskey, this first release of the DISTILLERY EXCLUSIVE will be a favourite among both visitors discovering whiskey for the first time and longtime whiskey drinkers seeking a new single malt with the quality and taste we're famous for." 
The RRP for the DISTILLERY EXCLUSIVE is £74 per 70cl bottle and it has an ABV of 47%. The DISTILLERY EXCLUSIVE is only available for purchase at The Old Bushmills Distillery in Bushmills, Co Antrim, Northern Ireland.
Tasting notes for the Bushmills Distillery Exclusive:
Nose: Rich spiced floral berries.
Taste: The sweet spice intensity develops from the first taste, creating a creamy mouthfeel. Honey and floral notes rush in, marrying with the sweet vanilla and accentuated dried fruit flavours. Ends with hints of wood intermingled with cinnamon.
Finish: Long, rounded and warming spice - unforgettable!
<< Read more about Irish Distilleries
<< View Scottish Single Malts on Planet Whiskies
<< Back to all the latest whisky news brought to you by Planet Whiskies