Bowmore® Islay Single Malt Scotch Whisky Launches: The Devil's Casks
Published Date: 9th September 2013
A spellbinding dram rich with fruitcake, chocolate and deliciously dark fruits
Welcome to another release from Bowmore and this time it is a cracker. The Devil's Casks is a non chill-filtered small batch single malt from one of Islay most famous distilleries. There are only 540 bottles released and remember this new bottle will not be available till October this year. Below you can read the press release from Bowmore and below that are tasting notes for this malt.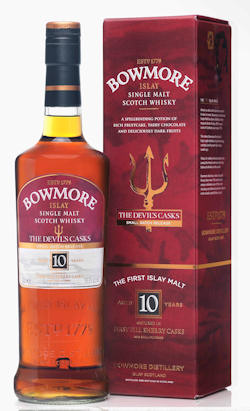 Bowmore, Islay's first Single Malt Scotch whisky, has announced the launch of The Devil's Casks – a devilishly delicious dram which has been matured exclusively - and unusually - for 10 years in the finest first fill sherry casks. This non chill-filtered, small batch release is bursting with Bowmore's hot and fiery characteristics, deep mahogany colour and rich fruitcake flavour.
Created to celebrate one of Islay's most famous tales - a story shrouded in myth and legend - 6,000 bottles of The Devil's Casks will be released in October, just in time for Halloween. The story goes that the Devil himself was spotted in the round church of Bowmore and chased by local congregation down into the No. 1 vaults at the Bowmore distillery. Here, as the warehousemen were filling casks and loading them aboard the paddle steamer (The Maid of Islay) the devil was lost. It is believed he escaped in a cask of Bowmore bound for the mainland.
The devil is in the detail when it comes to packaging for this delectable treat – the perfect addition to any whisky connoisseur's collection. A deep red box tells the story of the legend alongside smoke illustrations and a Devil's pitchfork suggesting the Devil himself isn't far away!
TASTING NOTES:
Colour: Deep mahogany
Nose: Dark fruits, birch tar, the warmth of old leather, brandy, fruitcake and maple syrup.
Taste: Rich fruitcake, tarry chocolate, lingering dark fruits, tobacco and angelica root.
Finish: Exceptionally long, full-bodied finish.
Bowmore's Master of Malts Iain McCallum: "Ten year's maturation in first fill sherry casks has brought out Bowmore's fiery characteristics. The notes in this dram are hot and seductive. This small batch release is quite simply, devilishly good!"
540 bottles of the Devil's Casks has been released in the UK priced at £50.99 RRP, 56.9% ABV.
Bowmore The Devil's Casks is available from October - @bowmore1779
For more information, please visit www.bowmore.com and www.facebook.com/bowmore
UK Distributor: Cellar Trends on 01283 217703 or bowmore@cellartrends.co.uk
<< View the range of Bowmore Single Malt Whiskies
<< Back to all the latest whisky news brought to you by Planet Whiskies