London Distiller Bimber debuts Ex-bourbon Oak Casks Small Batch and six single cask releases
Batch 001 of Bimber's Ex-bourbon Oak Casks will be available to order directly from the distillery from 9th June

Latest Small Batch release is joined by six cask strength, single cask releases for both UK and export markets
Published Date: 4th June 2020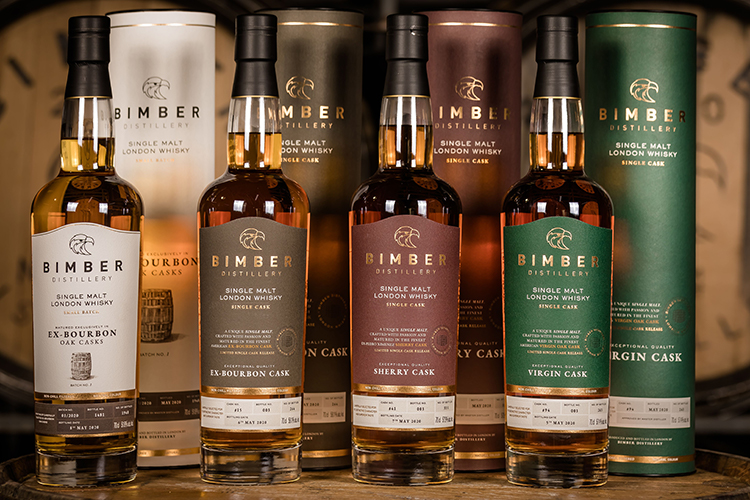 London's Bimber Distillery today announced the upcoming release of seven new expressions including the follow-up to the popular Re-charred Oak Casks Small Batch single malt.
The Ex-bourbon Oak Casks single malt has been crafted from a vatting of American Oak ex-bourbon casks laid down in 2016 - Bimber's first year of production.
The initial batch (001) is bottled at 51.8% ABV, limited to 1948 bottles and will be available directly from the distillery's online shop for £65.
Also being released on the 9th June are a selection of six cask strength, single cask releases, with three produced for the UK and three sister casks available for export markets.
The UK releases will be available directly from Bimber's online web shop on the 9th June. The export releases will be available via specialist retailers in: Belgium; Denmark; France; Germany; Italy; Netherlands; Poland; Singapore and Taiwan.
Each of the new expressions were crafted to Bimber's exacting standards. The spirit was produced from the distillery's single farm barley and malted on a dedicated floor at Warminster Maltings before being fermented for seven days in bespoke, on-site constructed American oak washbacks. Distillation took place in Bimber's customised stills which possess an increased copper surface area, which results in a light, fruit-forward, layered new make spirit.
Speaking of the new releases, the Bimber Founder and Master Distiller said: "Whilst the last few months have presented challenges to the distillery and my team, it is a great pleasure to unveil our latest English single malt whiskies. Our newest small batch release is very much the successor to our Re-charred Oak Casks single malt - it skillfully demonstrates how ex-bourbon wood perfectly complements the underlying character of our accessible fruit-forward spirit."
He added "Alongside our newest small batch release, we're excited to be offering a range of single cask expressions, all of which celebrate and showcase a different aspect of our spirit's versatile style."
More Whisky News