Benromach Distillery adds to its limited-edition Contrasts range with Air dried and Kiln dried Virgin Oak expressions
Published Date: 11th July 2023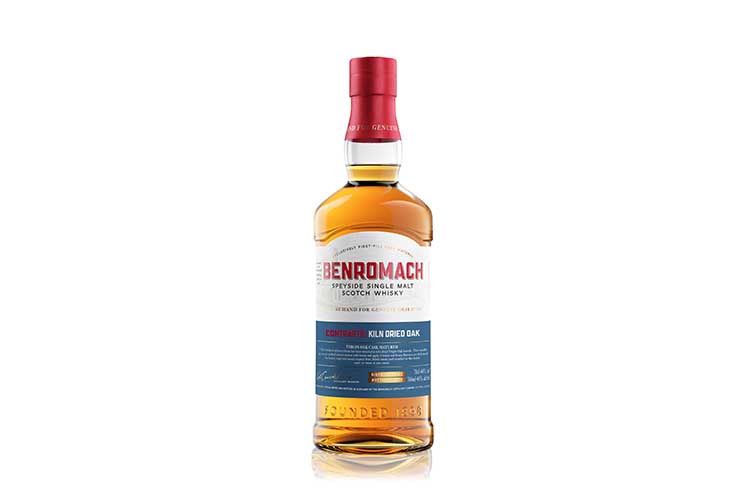 Benromach Distillery in Speyside has announced that it has added two new limited-edition whiskies to its popular Contrasts range which aims to surprise and delight drinkers with variations on the signature smoky Benromach style, by maturing spirit in different and interesting ways.
Distilled in 2012 and bottled earlier this year, the new Contrasts Air Dried Oak and Contrasts Kiln Dried Oak whiskies showcase the subtle nuances and flavours generated by different techniques used to dry the wooden staves that make up the casks.
With an ABV of 46%, both whiskies offer drinkers a lingering smoky finish but with differing flavour profiles. The first variant features oak which has been air dried for three years before toasting, providing the whisky sweet vanilla fudge notes followed by fresh peppermint and oak. And its kiln dried counterpart features whisky matured oak that was air dried for two years then put in a kiln to accelerate the drying process. This increases the interaction of spirit and wood, gifting the whisky a sweeter, more malted biscuit nose with lemon barley sugar and mixed tropical fruit flavours.
Keith Cruickshank, Distillery Manager at Benromach, said: "At Benromach, our aim is to always produce whisky by hand that has real, genuine character. Our Contrasts range allows us to experiment and explore new flavours.
"These two new whiskies were created from a deliberate experiment to see if different approaches to drying wood might have an impact on the flavours. They demonstrate how small changes can have a significant effect on taste – and that's the intriguing nature of the air- and kiln-dried variants.
"We usually use virgin oak casks only with our Contrasts Organic whisky, so it's been a great chance to see how our traditional lightly peated spirit reacts to this cask type, as well as the air drying versus kiln drying stave preparation.
"It will be exciting to see how whisky drinkers interpret the drams and their differences, and hearing which one they prefer and why."
For more information on Benromach Distillery or its Contrasts range, please visit: www.benromach.com
More Whisky News