Auchentoshan Single Malt Whisky Launches Exciting New Range Exclusive to Travel Retail - 2nd March, 2012
Four core expressions, beautifully matured, each with its own distinctive style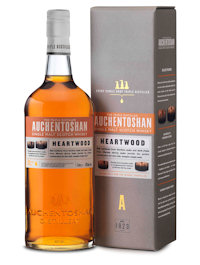 This March (2012), Auchentoshan, Scotland's only triple distilled Single Malt whisky, will launch a new and exclusive range for the travel retail sector, consisting of four core permanent expressions supplemented by two limited editions released each year.
Available globally in a range of international airports, terminals and border shops, the range is targeted at global travellers who want to explore a stylish and unique range of Single Malt whiskies as well as whisky collectors and aficionados.
With a view to expand and grow the Single Malt category globally, this compelling collection boasts a distinct style and taste, all beautifully maturated using a selection of fine North American and European oak casks previously used for the ageing of Bourbon, Spanish Oloroso Sherry and Pedro Ximénez Sherry. This provides Auchentoshan with a strong point-of-difference within the sector.
With two expressions carrying an age statement, this new range takes its cues from the oak casks used to mature the whisky. During cask maturation the spirit takes on a multi-layered complexity from the wood – in the aromas, tastes and texture. Being the only Scottish Single Malt whisky to triple distil every drop means that the spirit produced starts life at 81.5% ABV; most distilleries settle for 70% ABV. It is this quality of Auchentoshan's distillate paired with the carefully selected oak casks that gives these whiskies some astonishing flavours – these factors are equally, if not more important than merely age. Many whiskies can in fact have a less mature character if matured in lesser quality oak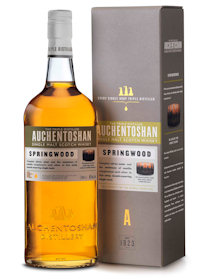 Rachel Barrie, Master Blender at Morrison BowmoreDistillers, states: ""The new Auchentoshan Travel Retail range brings the story of cask maturation alive, allowing the drinker to experience the distinctive influence of different casks from North America and Spain as well as the influence of age. We have created a range for exploration and discovery, from aperitif to digestif in style, soft and sweet to dark and delicious in taste. I am very excited to have the opportunity to share these intriguing and highly distinctive expressions of Auchentoshan with the world."
The wood theme is evident throughout all aspects of the new range with each expression's name being inspired by the tree life cycle stages that reflect the malts' personality and flavours:-
Springwood is the time when most of the growing happens for a tree and thus this malt is fresh, zesty and sweet – reminiscent of eating fruits in a spring garden. Springwood is 100% North American ex-bourbon oak and its name is inspired by the higher percentage of springwood in North American oak
Heartwood is the core of the tree and like an older sibling to Springwood; a rich, warming and hearty dram, with an intense and complex taste. It is matured in a combination of toasted Spanish Oloroso sherry casks and deeply charred North American bourbon casks to create this rich and warming dram
14YO Cooper's Reserve is named so as it is mature and well rounded; it has a complex relationship with the wood and is perfect for a special occasion. At 14 years old, this whisky has developed an ideal and unique balance of soft dried fruit and intense nuttiness
Silveroak has an incredible multi-layered complexity, is a rare whisky and thus is named after the silver rings that appear on the inside of an older tree. Bottled at the traditional high strength of 51.5% ABV and non-chilled filtered, the expressions makes for a wonderful digestif to sip and savour
Solera is named after a process for producing and ageing sherry due to the use of ex Pedro Ximénez casks in thisexpression. Renowned as the 'King of all Sherries', Pedro Ximénez casks add contrasting deep aromas and textures. Solera is dark, intense and alluring – perfect for moments of pure indulgence or as a gifting item
As a top-10 travel retail brand in Europe with big aspirations and enjoying double-digit growth year on year within the sector, the new range is a compelling consumer-driven concept to build on the successes so far. This bold wood proposition offersconsumers differentiation within a competitive category, providing a strong-selling back story. The stylish and contemporary packaging with new taste cues for each expression also brings to life the story of each cask, appealing to a cross demographic and embracing the consumers' desire for discovery and learning about the history and craftsmanship of the whisky.
David Wilson, Sales & Marketing Director of Morrison Bowmore Distillers, commented on the new range: "Single Malts is one of the fastest growing sectors of travel retail, so we understand the importance of getting it right. We are extremely proud to launch this unique and differentiated range exclusively for the global traveller that taps into the pleasure of the Single Malt experience in a modern and relevant way. The careful attention and ongoing investment in our oak casks combined with our unique adherence to triple distillation has resulted in an exceptional range of quality malts."
AUCHENTOSHAN SPRINGWOOD

Springwood – the time of most fresh growth for the tree

40% ABV, RRP: £34.99, 1 Litre

100% Bourbon cask matured

Nose

Vibrant, sweet and delicious.

First nose reveals barley sugar, Seville orange, coconut creams, honey and lemon toddies. Also, poached pears and green bananas. Behind the sweetness, a spring garden in the morning dew with narcissus and daffodils.

Water releases vanilla madeleines and lemon bonbons with coconut ice, macaroon and a drizzle of chocolate sauce. Roses now appear in the garden.

Taste

Lively and charismatic on the tongue.

A burst of tangy citrus (clementines and pink grapefruit) and warming barley sugar with a frisson of coconut, trace of honey and dewy floral notes.

Finish

Clean and salving with grapefruit, citrus and dew.

AUCHENTOSHAN HEARTWOOD

Heartwood – the rich core or heart of the tree

43% ABV, RRP: £41.99, 1 Litre

Bourbon and Oloroso Sherry Matured

Nose:

Rich, enticing and very warming with smouldering toasted oak notes.

First nose brings burnt candy and baked fruit desserts in an oak cabinet. Seductive sandalwood and rosewood pull you in with cinnamon spice and rich Viennese coffee.

Next Moroccan spices and baked blood oranges appear with toasted tonka beans and Christmas cloves.

Water brings out more toasted warmth on the nose with leather, vanilla, more spices and traces of liquorice and walnut. Toffee and coffee are sweet and delicious.

Taste:

Rich, warming and comforting, like a soft velvet blanket. Dark chocolate orange, burnt vanilla pods, velvety leather and cinnamon sizzle.

Finish:

Orange spiced dark chocolate.

AUCHENTOSHAN 14 YEARS OLD COOPERS RESERVE

An autumn harvest table

46% ABV, £49.99, 70cl

Marriage of Bourbon and Oloroso Sherry casks

Non chill filtered and high strength

Nose:

A cornucopia of fruit, nuts and barley, reminiscent of an autumn harvest table.

Roasted barley and chocolate pralines bring the first layers of aroma. Treacle toffee and chocolate brazil nuts follow with butterscotch and crème brulee.

Water releases fruit and nut muesli with freshly squeezed orange. Chocolate follows with hazelnuts, almonds, dried apricots and figs. Oiled leather emerges with traces of walnut oil.

Taste:

Well-rounded and mature with a creamy texture. Dried figs and apricots are sumptuous and sweet, interwoven with a cornucopia of hazelnuts and almonds. Chocolate pralines are smooth and creamy.

Finish:

Chocolate pralines, apricots and walnut oil.
AUCHENTOSHAN SILVEROAK

The perfect digestif

51.5% ABV, RRP: £79.99, 70cl

Vintage, small batch release of 500 cases in 2012 and 2013

A 1990 limited edition that has been matured in fine North American Bourbon and Spanish Oloroso Sherry casks

Nose:

Captivating and heady with botanical herbs, warm fruits and deep floral scents.

Fennel, gorse bushes and a hint of black pepper awaken the senses to the veritable delights that await beneath. Aromas of honeysuckle, vetiver and tea tree oil create the impression of a late summer aromatic garden, tempered by soft jasmine and oiled oak. There's a satisfying deep fruitiness too with baked bananas drizzled with honey and warm toffee, served with almonds and liquorice root.

Water brings out more banana fruit with pine nuts, honeysuckle and fresh mint. Rose-scented Turkish delight with a sprinkling of icing sugar now appears alongside liquorice and mint, perfect for after dinner.

Taste:

Creamy, oily and mellow with warm coffee, a teaspoon of Demerara sugar and cleansing mint chocolate. A wonderful digestif to sip and savour.

Finish:

Dark chocolate mint cleanses the palate with a lovely cooling finish.
AUCHENTOSHAN SOLERA

Rich and indulgent

48% ABV £130.00 70CL

Matured in a selection of fine oak casks and finished in Pedro Ximenez

Non chill filtered and high strength

Nose:

Mature, mellow and deeply aromatic.Dark dried fruit with Victoria plums, cherries and raisins, followed by a deep and unctuous oiliness, reminiscent of beeswax and linseed oil. A basket of richly spiced dark fruits in an oiled cabinet.Water brings out more deeply seductive oiliness, but also rich plumy fruits and scents of rosewood and cherry blossom with warm roasted Columbian coffee in the background.

Taste:Full bodied with a thick, oily and chewy mouth-feel.Plums, dates, burnt toffee and toasted almonds in a cherry, raisin and blackcurrant flan. Dark chocolate brings depth and a bittersweet dimension with cherries inside.

Finish:

Chocolate, dates and toasted almonds.
This new range is exclusively available in World Duty Free stores from 7th March and general release from April 2012. For all sales enquiries please contact Morrison Bowmore Distillers +44 141 558 9011
For more information visit: www.auchentoshan.co.uk
<< View the range of Auchentoshan Single Malts
<< Back to all the latest whisky news brought to you by Planet Whiskies