Arran Latest Whisky News - November 2010 Newsletter
Published Date: 10th November 2010

What's new this november at the Arran Distillery?
You must be of legal drinking age
in the country where you access this site.
Welcome to our first ever Arran newsletter as we aim to bring you all the latest news and releases from the heart of the Arran Distillery straight to your inbox!
Arran Distillery News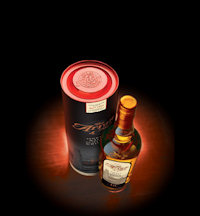 The autumn whisky season is well underway and our Distillery team has been working hard to fill plenty of 2010 casks which will start their long slumber in our warehouses in this wintry weather....I can't think of a finer place to be in this cold snap! Don't worry though, our Visitor Centre will still be open for tours during the winter months, and should you find yourself coming over to Arran for a cosy winter break, you can check our winter opening hours on our web site. Perhaps you might make it over for our Christmas Winter Fayre on Sunday 28th November where you will be treated to a warming dram, mince pie and the sound of local musicians, whilst having a look at some of the best produce that the island has to offer.
Our Sales Team has also been rushed off their feet over the past couple of months, as official 'Whisky Festival' is well underway. The guys and girls have been accompanying our fine Single Malt to tasting events both at home and abroad - follow their travels on our web site where you will find dates, locations, and lots of stories about what happens when the Arran Malt hits the road!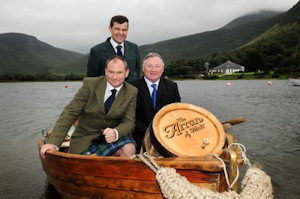 James, Euan and Andy smuggling the first ever cask of Arran 14 year-old up the Clyde from Lochranza to Glasgow in August this year.
I think they would struggle in that wee boat at this time of year!
Gorgeous New Whiskies!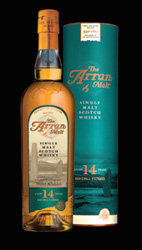 We are delighted to introduce four brand new editions to our range this autumn - The Arran Malt 14 year-old, The Amarone, Sauternes and Port Cask Finished Single Malt Whiskies.
The Arran 14 year-old was launched in August and has already been receiving rave reviews on several whisky blogs and in the press;
Why not treat yourself to a bottle from our web shop? Click here to be led to a dram worthy of your attention!
In other news, we were delighted to hear the news last month that "The Peacock" from our "Icons of Arran" series was named 'Best Single Malt 11-15 years old" in Jim Murray's Whisky Bible Awards 2011. As it happens, this bottling was a limited edition of 6,000 bottles, so it's definitely worth trying to get your hands on one - it's become a bit of a collector's item now!
Finally,watch this space too for a really exciting new release planned for later this month.....plans are in place for a fiercely delicious new addition to our range which should appeal to Arran fans old and new. Our brand new Machrie Moor Single Malt will be unleashed just in time for Christmas with the official launch taking place on Arran at the Christmas Fayre on Sunday 28th November. So, all the peat fans out there had better start dropping serious hints to Santa before this small batch bottling sells out! Keep your eyes peeled on our web shop for the arrival of this bold expression of The Arran Malt.
Amazing Christmas Offers
If you fancy the chance to enjoy your favourite dram of The Arran Malt in the luxurious surroundings of the 4* Auchrannie Country House Hotel and Spa Resort on the Isle of Arran, then you can't afford to miss our outstanding Christmas competition. All you need to do is spend a £80 or more in our web shop and you will be automatically entered into our free prize draw to win a 2 night stay for 2 people at the stunning Auchrannie - what a perfect way to start 2011! Click here to read more and be directed to our web shop, where we have some really great Christmas exclusive offers ready and waiting for you!
With warm regards from the Isle of Arran,
<< View the range of single malts from the Arran Distillery
<< Read more about Isle of Arran Distillery
<< Back to all the latest whisky news brought to you by Planet Whiskies
Distillery of the Month: November 2023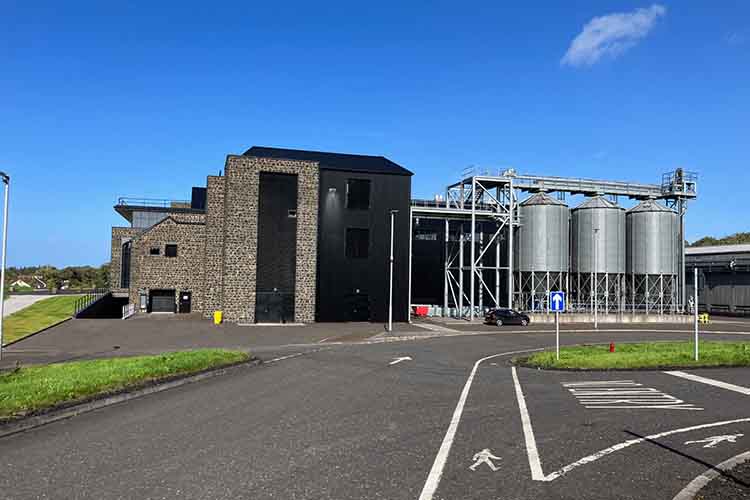 Planet Whiskies visited the new Bushmills Distillery in Northern Ireland on the 25th and 26th of September. Read our review of the experience of Bushmills and Northern Ireland at Planet Whiskies tour of Bushmills and Northern Ireland
You can also read the whole section about Bushmills Distillery at Bushmills Distillery Information on Planet Whiskies... So Bushmills is Planet Whiskies Distillery of the Month title for November 2023
Get Newsletter
Subscribe to our newsletter to get latest news, popular news and exclusive updates.