Latest Whisky News - Make it snappy or we'll see you later, urges Ardbeg
An Islay-gator Tale: Iconic Islay whisky distillery "unleashes" its annual Limited Edition…Ardbeg Alligator

--- Previous Limited Edition – Ardbeg Supernova – won Scotch Whisky of the Year title in 2010 ---
Published Date: 1st September 2011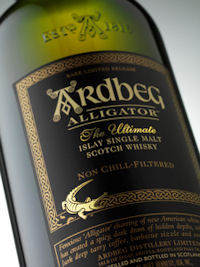 Bosses at Ardbeg – the iconic whisky distillery on the remote island of Islay – are urging whisky aficionados to snap up their annual Limited Edition Ardbeg Alligator…before it's too late.
Described as a "whisky with bite", it is hoped Ardbeg Alligator will go on to emulate the success of last year's limited edition – Ardbeg Supernova – which not only sold out in record time but also won the coveted Scotch Whisky of the Year award.
On sale from today (September 1 2011), there are a limited number of bottles of Ardbeg Alligator available worldwide. With an RRP of £65 Scottish stockists include Royal Mile Whiskies in Edinburgh and Luvians Bottle Shop in Cupar, Fife. It is also available online at www.ardbeg.com
Ardbeg Alligator is the result of experimentation carried out many years ago by the Distillery and its team headed up by Dr. Bill Lumsden, Head of Distilling and Whisky Creation.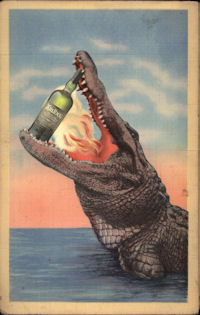 "Alligator Charring" describes the method of charring (or burning) the inside of the oak casks before they are filled with spirit. The burnt wood staves take on the appearance of an alligator's scales, hence the name. The heart of Alligator is spirit matured in 'Level 4' casks - the most intense type of charring you can achieve.
Lumsden said: "Since we bought and restored the Ardbeg Distillery we have undertaken lots of experiments, laying down spirit in different types of casks. This began back in the late 1990s and Alligator is a good example of one experiment that has definitely worked.
"The key for us was to "marry" the intense smoky bacon and charcoal taste of the whisky from these heavily charred casks with the equally intense smoky peaty flavours of hallmark Ardbeg and get the right taste. We are intensely pleased with the results and it would be fair to say that this whisky has bite."
On the launch Hamish Torrie, Ardbeg Brand Director explained: "It is a limited release and, judging by the reaction of our Ardbeg Committee Members to the few bottles we pre-released in June it will be snapped up very quickly!"
Ardbeg prides itself on being the 'Ultimate Islay Malt Whisky'. Established in 1815, Ardbeg is revered by connoisseurs around the world as the peatiest, smokiest and most complex of all the Islay malts. Despite its smokiness, Ardbeg is renowned for its delicious sweetness, a phenomenon that has affectionately become known as 'the peaty paradox'.
During the 1980s and 1990s, Ardbeg suffered from an uncertain future and it was not until the brand was purchased by The Glenmorangie Company in 1997 that the Distillery was saved from extinction. Since then, the Distillery has risen like a phoenix and today Ardbeg is well established as a niche, cult malt, with a passionate following.
Ardbeg was voted Scotch Whisky of the Year three years in a row (2008-2010) by Jim Murray's Whisky Bible.
Ardbeg Alligator has been bottled at 51.2% ABV and as with all Ardbegs is non chill-filtered for extra texture and mouth-feel.
You can read more about Ardbeg Distillery on the distillery website.
<< See the range of Ardbeg Single Malt Whisky
<< Back to all the latest whisky news brought to you by Planet Whiskies