Wemyss Malts and Blends - Wemyss Malts launches a new whisky called "The Hive" - 10th August, 2011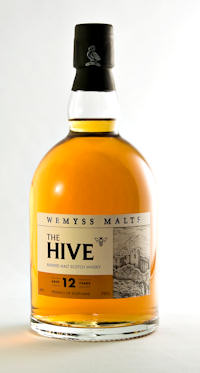 Boutique whisky company Wemyss Malts is delighted to announce the launch of a new 12 years old blended malt Scotch whisky called "The Hive".
Wemyss' blended malt range, which also includes Spice King and Peat Chimney, has names inspired by each whisky's natural flavours and aromas so that the consumer can easily understand the style of whisky being purchased. The Hive is named after the honeyed sweetness found on the palate of this whisky.
Each of these blended malts represents one of the key Scotch malt regions. The Hive is for the Speyside region, Spice King for the Highlands and Peat Chimney for Islay.
As with the rest of the Wemyss Malts range, these blended malt whiskies have been developed in conjunction with the Scotch expert and writer Charlie Maclean and are bottled at 40% ABV.
To mark the launch of The Hive, the 12 years old blended malt range has been repackaged into new premium gift tins, and the bottle labels have also been redesigned for this launch. The new packaging features bold and striking designs, with quirky details to denote each expression; all in all delivering excellent shelf standout.
The Hive and the rest of the newly re-packaged 12 years old range will be available from August 2011 in Travel Retail, EU, Asian and Australasian markets.
William Wemyss, Managing Director of Wemyss Malts, commented "We continue to strive to bring accessible whiskies to the market and are taking this opportunity to refresh our range of premium blended malts with an excellent new product called The Hive and striking new gift tins across the 12 years old range."
Read more about Wemyss Malts and buy online