Latest Whisky News - Wemyss Malts Celebrates Double World Whisky Awards - 22nd April, 2013
Edinburgh based boutique Spirits Company Wemyss Malts is delighted to announce that it is celebrating a second World Whisky Award from Whisky Magazine as Best Blended Malt Scotch Whisky.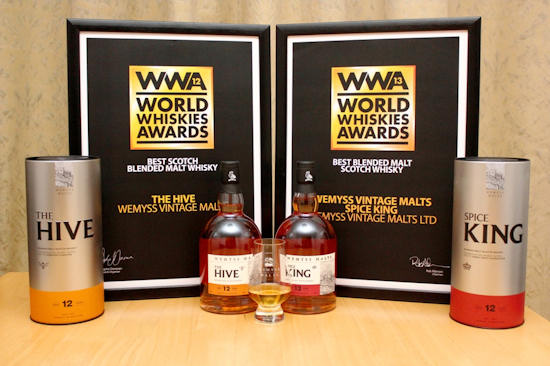 In 2012, Wemyss blended malt Scotch whisky "The Hive" won the World Whisky Award in this category and followed the win in 2013 by collecting the same award for "Spice King".
Wemyss Malts names its whiskies after their natural flavours and aromas and the full range of blended malt Scotch whiskies comprises: "The Hive" named after its natural honeyed sweetness, "Spice King" after its spicy peppery character and "Peat Chimney" for its gentle smokiness. These whisky names are designed to guide whisky drinkers on the style of whisky they are purchasing.
William Wemyss, Founder and Managing Director at Wemyss Malts, commented: "We are absolutely delighted to receive this wonderful accolade for "Spice King" this year. Our blended malt range is going from strength to strength and is now in over 20 countries around the world."
Read more about Wemyss Malts and buy online
<< Back to the Wemyss Malts main page
<< Back to all the latest whisky news brought to you by Planet Whiskies