Suntory Japanese Whisky celebrates Sakura in London :: Chotto Matte serves exclusive Hibiki Cherry Blossom cocktail :: 6th May, 2015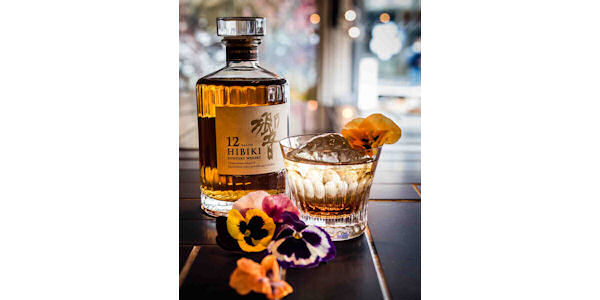 Suntory Japanese Whisky proudly presents the Hibiki Cherry Blossom cocktail, served
exclusively at Chotto Matte from 27th April until 28th May, in honour of the Japanese festival of Sakura.
The Hibiki Cherry Blossom is a luxurious and fragrant cocktail created from a harmonious blend of Hibiki 12 year old whisky, Prucia plum liqueur, sweet vermouth and cherry bitters, served over ice. Suited to whisky lovers and new connoisseurs alike, Hibiki's unique taste profile and characteristics are enhanced by the carefully selected cocktail components and a handcrafted ice-ball.
Suntory Hibiki 12 year old is a smooth and fragrant Japanese whisky, which epitomises
Suntory's craftsmanship and art of blending. Hibiki resonates from nature, and all the
subtleties found within the 24 seasons of the old Japanese lunar calendar, making it the perfect drink to celebrate Sakura, the season of Cherry Blossom. This Spring, Suntory will bring a taste of Japan to London with a delicately crafted Hibiki 12 year old cocktail, complete with edible flowers.
Hibiki 12's complex tasting notes are formed during a meticulous process, where select components of whiskies from Suntory's main distilleries, Yamazaki, Hakushu and Chita, are carefully blended, before being delicately flavoured in an Umeshu, sweet plum, barrels during the aging process.
Keita Minari, Brand Manager at Beam Suntory commented: "In Japan, it is typical for our
food and drink offerings to reflect the seasons, with Sakura being one of the most prominent.
Hibiki embodies 'Wa' meaning 'Oneness' with its harmonious blending and multi-faceted bottle synonymously reflecting nature. The Hibiki Cherry Blossom cocktail embodies the essence of Japan in one of London's finest bars."
Sakura is a traditional Japanese festival that celebrates the colourful bloom of the Cherry Blossom tree. After the short opening of the blossom, thousands of petals fall from the trees in a theatrical display of beauty. A national sign of hope, the Cherry Blossom that falls across Japan during Sakura represents rebirth and the beauty of life.
Chotto Matte, is a Japanese restaurant and sushi bar located in the heart of London's Soho.
Fusing traditional clean lines with a more underground Tokyo style, it is the perfect place to pair Japanese Whisky with Japanese Cuisine.
The Hibiki Cherry Blossom cocktail will be available at Chotto Matte from 27th April until
28th May during the Sakura season, priced at £10.
Suntory Hibiki 12 Years:
Blossoming. Exuberant. A dazzling, echoing, roundness.
Colour: A shiny amber
Nose: Pineapple, plum, raspberry, honey, hibiscus
Palate: Banana, pomegranate, custard, pink pepper
Finish: Sweet, sour and complex
Stockists: Master of Malt, Whisky Exchange, Tesco
RRP: £37 (50cl), £50 (70cl)
<< Back to all the latest whisky news brought to you by Planet Whiskies
Distillery of the Month: November 2023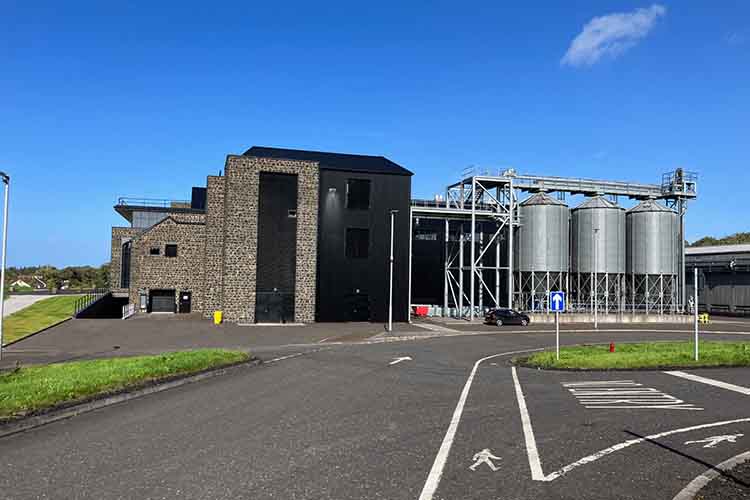 Planet Whiskies visited the new Bushmills Distillery in Northern Ireland on the 25th and 26th of September. Read our review of the experience of Bushmills and Northern Ireland at Planet Whiskies tour of Bushmills and Northern Ireland
You can also read the whole section about Bushmills Distillery at Bushmills Distillery Information on Planet Whiskies... So Bushmills is Planet Whiskies Distillery of the Month title for November 2023
Get Newsletter
Subscribe to our newsletter to get latest news, popular news and exclusive updates.