Something Special Celebrates 10 Years of Latin Art with Enbotellarte Miami Event
Published Date: 17th September 2012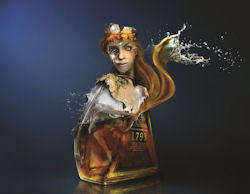 Something Special, the No. 2 blended Scotch whisky in South America* is celebrating its tenth year collaborating with Latin American artists with the return of its acclaimed Enbotellarte competition. Inspired by the brand's famous diamond-shaped bottle, the competition will culminate with an event in Miami's Design District in November.
Enbotellarte 2012 invites creative talent from six markets across Latin America to create a piece of artwork inspired by the iconic Something Special bottle and that reflects their response to the question: 'What makes you Something Special?' The campaign - which is being supported with targeted promotion in each market to encourage entries from artists and consumers - aims to increase perception of Something Special as an innovative and contemporary brand in key markets.
Internationally-acclaimed artist, Eduardo Bolioli, resumes his role as head juror of the competition and is joined on the judging panel by fellow artist Juliana Rosales**. Winners will be announced in October and invited to take part in Enbotellarte Miami the following month, where they will gain exposure through press conferences aimed at promoting fresh, artistic talent across South America. The event will end with a public exhibition featuring the artwork of the Enbotellarte 2012 finalists as well as works from established artists from Miami and Latin America, who have been specially commissioned by Eduardo Bolioli***.
Eric Benoist, International Marketing Director for Chivas Brothers, says: "The creativity inspired by the Something Special bottle delights us each year and we are thrilled to be showcasing the 2012 Enbotellarte winners' work in Miami this year. We are proud that over the last decade, we have been able to support, nurture and promote some of the most exciting talent from Latin America, and we look forward to discovering how this year's artists have embraced Enbotellarte in portraying their individuality."
Previous Enbotellarte competitions have tasked Latin American consumers with making films, animation and computer generated images, incorporating the renowned Something Special bottle, which was created in the 18th Century by an Edinburgh-based diamond cutter.
Enbotellarte 2012 is open to artists in Venezuela, Colombia, Peru, Ecuador, Costa Rica and Guatemala as well as artists residing in Miami.
For further information about the Enbotellarte competition, visit www.enbotellarte.com
<< Back to all the latest whisky news brought to you by Planet Whiskies