Port X Whisky: The Dalmore Releases Unique Vintage Port Collection: 6th July, 2017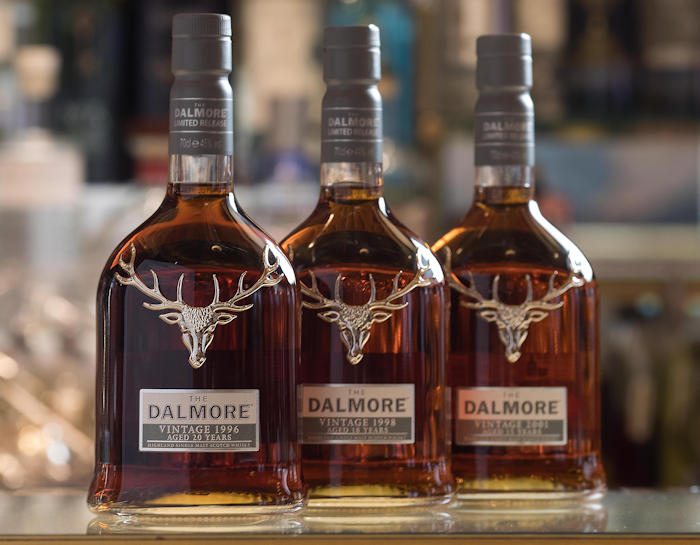 << View The Dalmore Single Malt Range
Luxury single malt The Dalmore has released a three-bottle, limited edition collection of whiskies matured in vintage port casks.  
In the year that The Dalmore's legendary Master Distiller Richard Paterson celebrates his 50th year in the whisky industry, The Vintage Port Collection is the latest in a long line of ground-breaking releases from the iconic whisky producer.  
Crafted using the finest aged Port pipes from renowned winemakers W&J Graham's, Paterson's unrivalled knowledge of the cask maturation process has been applied to full effect in creating a unique collection of port-finished vintages from 1996, 1998 and 2001.  
Reflecting the pioneering heritage and artistry which has helped The Dalmore define the luxury single malt category, The Dalmore Vintage Port Collection is matured in American white oak ex-bourbon casks, creating a pristine canvas for Richard to create this uniquely finished collection.  
Tawny Port pipes from Graham's vineyard in Douro, Portugal add the finishing touches to the collection, using pipes reserved exclusively for The Dalmore. Graham's signature port palate perfectly matches the depth and quality of The Dalmore's complex new make spirit, enabling the spirit to be matured for longer in a greater variety of casks.  
The collection's oldest expression is the 1996 Port Vintage. A whisky which is indulgent and smooth, it offers a palate of Gingerbread and passion fruit, with a finish of pineapple, marzipan and blood oranges.  
The 1998 Port Vintage comprises a fruity palate of honeyed bananas, blueberries and grapes, with Damson plums and dark treacle providing a depth to the finish. The final member of the collection is the 2001 Port Vintage which offers a spicier aroma and a palate of morello cherries.  A coffee finish is accompanied with hints of Turkish delight and figs.  
The collection will be available to purchase from selected whisky retailers.  
Richard Paterson, Master Distiller at The Dalmore added: "For me, port and whisky complement each other perfectly, with port providing a fruitier palate to The Dalmore's deep and complex new make spirit.  Being able to finish these new releases in pipes of Graham's port, which are some of the finest quality, during my anniversary year is incredibly exciting. I'm delighted to be able to continue our founder's vision of creating new expressions that push the boundaries of what's possible in the luxury single malt category."
<< View The Dalmore Single Malt Range
Tasting Notes: Vintage 1996
Aroma: Blackcurrants, rich coffee beans and praline chocolate  
Palate:  Gingerbread, Damson plums and passion fruit  
Finish: Caramelised pineapple, Sanguinello blood oranges and marzipan        
ABV: 45%
RRP: £450                         
Tasting Notes: Vintage 1998
Aroma: English marmalade, Satsuma plums, vanilla and blackcurrants
Palate:  Honeyed bananas, blueberries and grape      
Finish: Damson plums, dark treacle and Christstollen cake
ABV: 44%
RRP: £200 
Tasting Notes: Vintage 2001
Aroma: Exotic spices, cinnamon, raisins and tangerines dipped in chocolate
Palate:  Caramelised peaches, freshly baked bread and Morello cherries             
Finish: Turkish delight, figs and coffee
ABV: 40%
RRP: £150
<< Back to all the latest new brought to you by Planet Whiskies