Laphroaig Single Malt Scotch Whisky Unveils Laphroaig Select | Read Tasting Notes
LAPHROAIG SINGLE MALT SCOTCH WHISKY UNVEILS LAPHROAIG SELECT
Published Date: 19th May 2014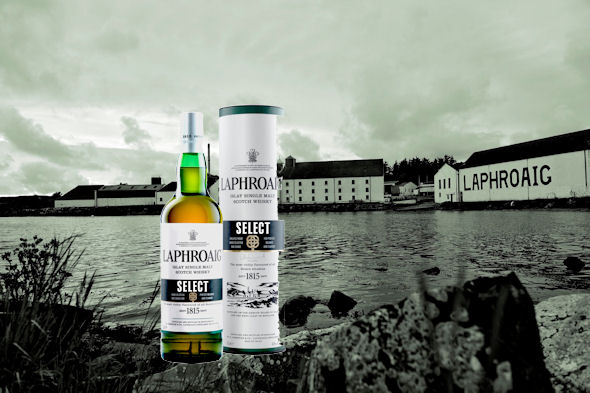 Laphroaig Single Malt Scotch Whisky, distributed by Maxxium UK, proudly reveals Laphroaig Select, the newest edition to the award-winning Laphroaig portfolio.
Laphroaig Select's unique character is derived from the special selection of casks chosen for maturation. The heart of the spirit is drawn from a final maturation in new American Oak casks, rarely used for Scotch whisky.
Representing a subtle blending of peat, oak and sweetness, Laphroaig Master Distiller John Campbell has selected the spirit from Laphroaig Quarter Cask, PX Cask, Triple Wood (European Oak casks) and a final addition of 10 Year Old to create Laphroaig Select.
Bottled at natural colour, the new single malt offers Laphroaig's trademark 'peat reek' matched by an additional layer of complexity and depth brought about by the fusion of the maturation styles and different oaks.
Master Distiller John Campbell said; "Select is an exciting and unique expression that brings together the best of Laphroaig's flavour profile. The inspiration for Laphroaig Select comes from perhaps our greatest family owner, Ian Hunter (1886-1954), one of the first distillers to experiment with both 'new' American and 'traditional' European oak maturation. As the world's No.1 Islay malt whisky, we continue to stay true to our long and illustrious heritage, and this expression sits perfectly amongst our award-winning portfolio."
Laphroaig Select is available in selected whisky specialists and retailers (RRP £34.99).
Tasting notes: Laphroaig Select (ABV 40%)
Colour: Full sparkling gold

Nose: Burning embers of peat in a crofter's fireplace, hints of coconut and banana aromas

Body: Full bodied

Palate: Deep, complex and smoky yet offers and surprises the palate with a gentle sweetness

Finish: Really long, dry with smoke and spice
To find out more information about Laphroaig or how to become a Friend of Laphroaig, please visit www.laphroaig.com. Please enjoy our brand responsibly www.drinkaware.co.uk
<< Back to all the latest whisky news brought to you by Planet Whiskies