Kilchoman Sanaig Launches Worldwide :: Sanaig, available worldwide from the beginning of March, 2016 :: 5th March, 2016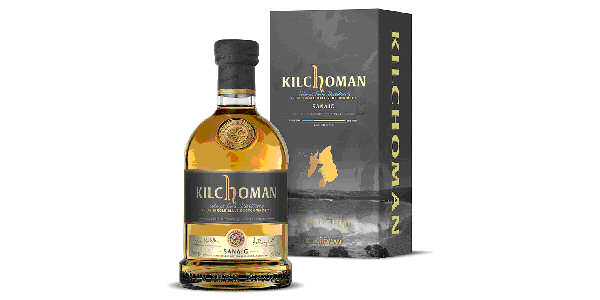 Kilchoman, Islay's Farm Distillery, are set to release Sanaig, the distillery's second continuous release. Established in 2005, Kilchoman is best known for Machir Bay, up until now the only continuously available release from the independent, family run distillery.
Named after an inlet North West of the distillery, Sanaig, which will be available worldwide from the beginning of March, has a predominantly sherry cask influence owing to the significant time spent in Oloroso sherry Hogsheads.
These aged Oloroso casks contribute a drastically transformed depth of colour and character compared to the mostly Bourbon cask matured Machir Bay. 'Cask Influence' bars now feature on the packaging of both Sanaig and Machir Bay to illustrate the differing flavour profiles of the distilleries two core expressions.
Anthony Wills, Kilchoman Founder and Managing Director; "Sanaig represents another significant step forward for Kilchoman, it is important to be able to offer customers consistently available releases, until now Machir Bay has been performing that leading role, Sanaig will now share the spotlight."
John MacLellan, Kilchoman Distillery Manager; "Sanaig is a bold marriage of sherry and bourbon cask maturation.  It is both a continuation of the classic Kilchoman style people know and love as well as a development fans of Kilchoman have yet to experience."
Founded in 2005, Kilchoman is one of the smallest distilleries in Scotland and was the first distillery to be built on Islay for 125 years.  Kilchoman, the only independently owned Islay distillery is most famous as the only distillery in Scotland to produce a portion of it's whisky from barley grown onsite, completing all stages of the whisky-making process themselves using traditional farm distillery methods.
Kilchoman Sanaig is bottled at 46% ABV and will be available globally in the coming weeks.
Tasting Notes: Kilchoman Sanaig Single Islay Malt Scotch Whisky 
Colour: Beech wood
Nose:  Soft cooked fruits with caramel and vanilla.
Palate:  Toffee, peat smoke and citrus with lingering sweetness.
Finish:  A lovely balance of peat smoke, fruit and sweetness.
Social Media sites for Kilchoman Distillery
facebook.com/pages/Kilchoman-Distillery
<< Back to all the latest whisky news brought to you by Planet Whiskies