Isle Of Arran Distillers Launch Limited 21-Year-Old Expression
Published Date: 4th December 2018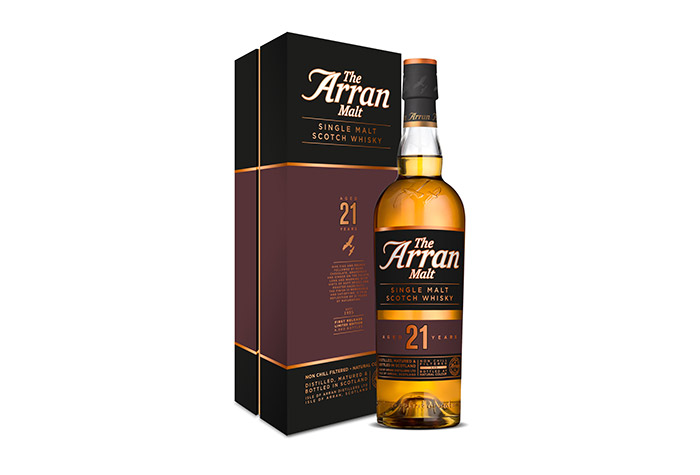 The Isle of Arran Distillers have released their first 21-year-old malt as part of the core range of Arran Malts, in a finite batch of only 9,000 bottles worldwide.
The expression is the latest, and oldest, addition to the range, which already comprises of the renowned 10-year-old, 14-year-old and 18-year-old Arran Malts.
In-keeping with their traditional style, this particular expression is rich and sweet and has initial flavours of dark chocolate, grapefruit and ginger, before giving way to a lasting finish of soft spices and figs creating a warm and memorable dram.
Long serving Master Distiller at The Isle of Arran Distillers, James MacTaggart, commented on the new expression: "We're extremely proud to have produced a dram that showcases our traditional Arran style, while the extended maturation process adds an extra elegance and complexity.
"I'm sure that the ever-growing community of Arran Malt lovers will be able to taste an elevated version of the whisky that they've come to know and enjoy."
"It's an immensely exciting time for the company and the island, with the release of this 21 year-old bottle and looking forward to the completion of the new Lagg distillery next year."

It will be available to purchase through all good whisky retailers week commencing 3rd December with an RRP of £115 and on www.arranwhisky.com
The independently owned distillers are approaching another significant milestone in their history with the construction of the new Lagg distillery in the South of the island.
It is expected to be fully operational in 2019, further increasing production capacity to 2 million litres.
There is the opportunity for whisky aficionados to become part of the exciting story of the new distillery, by becoming members of the Lagg Cask Society, which includes ownership of one of the first casks to be filled there. For more information, visit www.laggwhisky.com  
The Arran Malt 21 Year-Old Full Tasting Notes 
Colour: Warm gold. 
Aroma: Dark chocolate with hints of sweet spice. 
Palate: Grapefruit and ginger, followed by ripe figs, prunes and dark chocolate with vanilla and roasted orange peel. A luscious sensory delight. 
Finish: Long, warming and memorable. Hints of soft spices and roasted hazelnuts compliment beautifully the hallmark Arran citrus flavour. A perfect demonstration of the complexity afforded by a well-aged Arran expression.
<< Read more about Arran Distilleries
<< Buy Arran Single Malt Whiskies Online
<< View Scottish Single Malts on Planet Whiskies
<< Back to all the latest whisky news brought to you by Planet Whiskies