Glenmorangie Sonnalta PX proves a dram made in heaven in the 2012 Jim Murray Whisky Bible Awards - 24th October, 2011
Published Date: 24th October 2011
--- Author of Whisky Bible describes limited edition Sonnalta PX as a "mesmeric whisky" as it wins Jim Murray's Best Single Malt Scotch for 2012 ---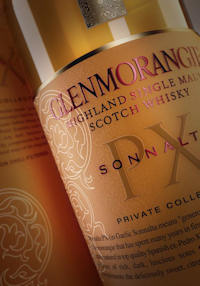 Glenmorangie Sonnalta PX has mesmerised industry experts once more, this time scooping a prestigious prize in the Jim Murray Whisky Bible Awards 2012. Murray paid tribute to the quality of the limited edition single malt Scotch by describing it as having "the perfect whisky finish."
This year worldwide industry legend Jim Murray nosed his way through no less than 1,500 whiskies and had no hesitation in naming Glenmorangie Sonnalta PX as his Best Single Malt Scotch – category: No Age Statement (Multiple Casks) - for 2012. Jim Murray's Whisky Bible is published annually and is regarded as a benchmark for the industry.
Glenmorangie Sonnalta PX takes its name from the Gaelic translation of "generous" (Sonnalta) and PX (Pedro Ximénez) for the "PX" ex-sherry casks from Jerez in Southern Spain into which the whisky is transferred for extra maturation.
But whisky aficionados will have to move fast to sample Sonnalta PX because it has nearly sold out. It is still available at specialist stores at £64.99 a bottle.
In his tasting notes Jim Murray pays tribute to the outstanding qualities of Sonnalta PX which he describes as, "a giant among the tall stills." Glenmorangie houses Scotland's tallest whisky stills at its Highland distillery in Tain. Jim Murray said of Sonnalta PX: "It is, unquestionably, the perfect whisky finish. A mesmeric whisky."
Dr Bill Lumsden, The Glenmorangie Company's Head of Distilling and Whisky Creation, said: "This is a wonderful award for us and is testament to the decision we took to launch our 'Private Edition.' Glenmorangie Sonnalta PX is an extraordinarily rich, dark and absorbing malt whisky and is the first of a series of innovative whiskies we decided to bring out for the true connoisseur. It is a real trailblazer and sets the benchmark for our Private Edition.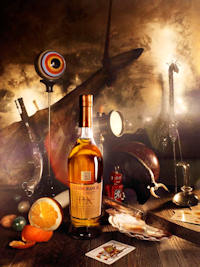 "We transfer this whisky into the 'king of sherry casks', Spanish ex-Pedro Ximénez (PX) barrels, for extra-maturation. These rare wood casks from Jerez weave their magic on the Glenmorangie Sonnalta PX, adding the eminent sweetness and intensity of their previous resident.
"On nosing Glenmorangie Sonnalta PX, the first impression is of dark chocolate, sun-dried raisins, treacle and Demerara sugar which gives way to a heady mix of hot chocolate and rich aromatic coffee. We are not surprised that Jim Murray was mesmerised by Sonnalta PX."
Glenmorangie Sonnalta PX is no stranger to winning awards. It has already won numerous prizes including: Best New Scotch Whisky Brand in Jim Murray's Whisky Bible 2010, Gold Best in Class at the International Wines and Spirits Competition (IWSC) 2010, Gold at the International Spirits Challenge (ISC) 2010 and Gold at the San Francisco World Spirits Competition 2010.
Glenmorangie Sonnalta PX is a part of a range of rare and interesting, limited edition whiskies carefully selected from the 'cabinet of curiosities' of Dr Bill Lumsden, Head of Distilling and Whisky Creation, fast becoming collector's items.
<< Back to all the latest whisky news brought to you by Planet Whiskies