Glenfiddich rewrites the whisky rule book :: Introducing the Glenfiddich Experimental Series:
Published Date: 1st September 2016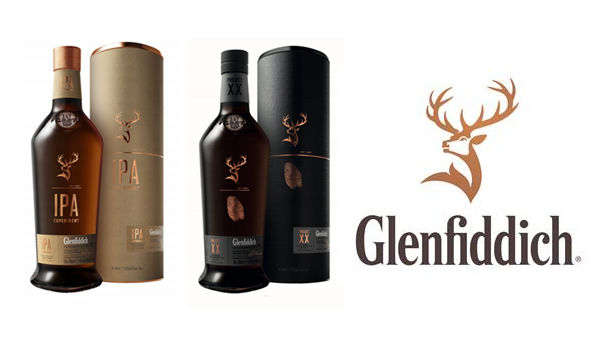 1st September 2016, Dufftown:Today, William Grant & Sons UK brand, Glenfiddich, the World's Most Awarded Single Malt Whisky, launches the Glenfiddich Experimental series, a new range that combines the brand's passion for pushing Scotch Whisky boundaries and collaborating with trailblazers from the whisky world and beyond.
Glenfiddich can do this because boldness is in their DNA: they are still family run and owned after 130 years, they started the entire single malt category and they are the World's Most Awarded single malt, no wonder they are called the Maverick Whisky Makers of Dufftown. The Glenfiddich Experimental Series is designed to inspire unusual and unexpected variants, and today sees the unveiling of two new innovative expressions:
Glenfiddich IPA Experiment: The first single malt Scotch whisky finished in IPA craft beer casks
Glenfiddich Malt Master, Brian Kinsman created the Glenfiddich IPA Experiment in collaboration with a local Speyside craft brewer, who shares a passion for innovative flavours. They worked together to pioneer a new single malt Scotch whisky imbued with zesty citrus and tangy hops from the oak casks that had previously held a bold Speyside IPA. In the process of Glenfiddich crafting a new whisky of the Experimental Series, the pair also created a new IPA craft beer.
To pioneer a new malt, the collaborators first had to design and create a new IPA craft beer that would go into whisky casks, which would later be used to finish the first experimental variant. The intensive experimental process involved creating three separate brews of different strengths and levels of hops. Brian seasoned up to nine American oak casks at a time with the IPA brews, varying the time the IPA craft beer spent penetrating into the oak casks, before filling the casks back up with whisky to access the flavour profiles.
"The idea behind the Glenfiddich IPA Experiment was quite unusual but one we were passionate about – we wanted to really play with the flavours to see what we could create. Glenfiddich's first whisky finished in IPA craft beer casks is testament to us challenging ourselves to produce something vibrant and unusual. The result is a liquid with a zesty citrus note followed by soft, sweet vanilla and a hint of fresh hops. The innovative flavour comes from carefully hand selecting the right malt whiskies to complement the extra hoppy notes."– Glenfiddich Malt Master, Brian Kinsman
Project XX: Created by 20 of the world's greatest Glenfiddich Experts
Project XX (pronounced 'twenty') is the result of one of the most ambitious malt experiments of Glenfiddich's 130-year history. The expression is the collaboration between the 20 Glenfiddich Brand Ambassadors from 16 countries from all over the world and Brian Kinsman, who developed one unexpected, extraordinary whisky by bringing together 20 very special single malts.
Going against normal whisky conventions, Brian invited the ambassadors to explore and each select a cask from a warehouse at the Glenfiddich Distillery in Dufftown. Many of these ambassadors are the foremost experts on Glenfiddich in their respective countries, introducing single malts to whisky connoisseurs, enthusiasts and novices, imparting knowledge and information. Brian's ambition was to create one remarkable single malt, by combining the curiosity and knowledge of these 20 experts.
This freedom of choice resulted in a 20-strong collection of some of the most unusual whiskies from Glenfiddich's unrivalled stocks, amassed and carefully nurtured throughout the brand's 130-year history. After each expert had chosen a single cask, from aged malts matured in port pipes to ancient sherry butts and first fill bourbon casks, Brian skillfully produced the final variant to reflect their individual tastes and interests. Expertly married together in a small batch vatting, the final flavour profile defined even his expectations.
"The final liquid was exceptional – and a special tribute to each individual cask the malts came from. The Glenfiddich Project XX we're launching today is a recreation of that initial small vatting. It has the warm summer fruity character of a classic Glenfiddich but then its 'multiple personalities' are revealed as the flavours of candy floss, cinnamon spice, almonds and rich port tannins kick in with the odd hint of liquorice."– Glenfiddich Malt Master, Brian Kinsman
There are only a few times in your "whisky life" that you get to do something so creative as to develop a whisky that will eventually carry the Glenfiddich family name – Project XX is one of those rare moments. 
When the 20 Glenfiddich ambassadors from around the world gathered in Dufftown, they each had their own idea of what they wanted to add to the whisky. This led us all on a crusade to choose oak casks that reflected the consensus of the group. To witness Brian's undeniable skill to marry them into something with deep concentrated flavours, yet with such unmistakable finesse and DNA of our distillery, was magical. – Glenfiddich UK Brand Ambassador, Mark Thomson
The Glenfiddich IPA Experiment, at ABV 43%, 70cl, will be available in Tesco's and specialist whisky stores at £45.00 from 6th September and the Glenfiddich Project XX at ABV 47%, 70cl, will be available from specialist whisky stores nationwide from September at £50.00.
<< View more from the Glenfiddich Range
<< Read more about the Glenfiddich Distillery and more news
<< Back to all the latest new brought to you by Planet Whiskies