Dublin Whiskey Bonding Tradition Is Honoured With New Red Spot Irish Whiskey Launch
The top spot in the Spot Whiskeys range is reimagined, rekindled and reintroduced from this month
Published Date: 14th November 2018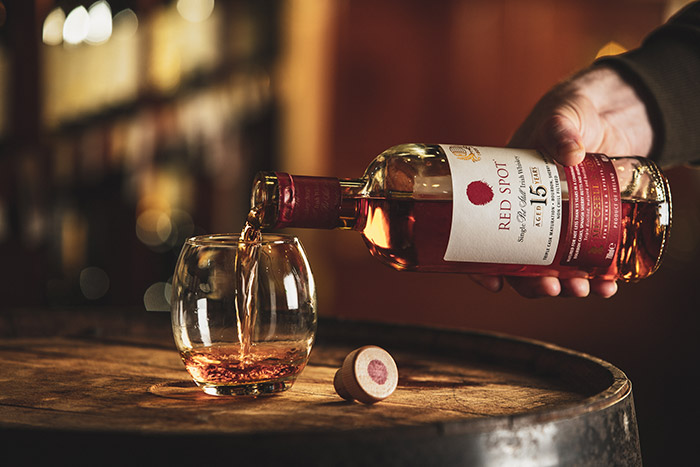 Irish Distillers, producer of the world's most well-known and successful Irish whiskeys, has unveiled Red Spot Single Pot Still Irish Whiskey. Last seen in the mid-1960s, this spicy new member of the Spot Whiskeys range offers whiskey drinkers further choice in the innovative super-premium Irish whiskey category. 
Crafted from an old recipe handed down by the Mitchell & Son family of wine merchants, the creators of the original Spot Whiskeys range in the early 1900s, the reimagined Red Spot is a triple-distilled, single pot still Irish whiskey that has been matured for a minimum of 15 years in a combination of casks pre-seasoned with Bourbon, Oloroso Sherry and Marsala fortified wine. The highly-anticipated result commands attention with a full-bodied, complex and characterful flavour profile that will appeal to aficionados looking for a bold whiskey experience. 
The Mitchell family worked closely with the craftsmen from Midleton Distillery throughout the collaboration. As part of the process, Marsala fortified wine casks were procured from Sicily in the early 2000s and then, in 2004, were filled with a five-year-old Bourbon matured single pot still Irish whiskey. The subtle contribution from the tight grain of the American oak was the ideal base for the heavy spice and ripe fruit flavours imparted through maturation in Marsala wine casks, which has been carefully blended with ex-Bourbon and ex-Sherry whiskeys to achieve the perfect balance of flavour. 
Kevin O'Gorman, Master of Maturation at Midleton Distillery, commented: "It has been a pleasure and a privilege to work with the Mitchell family on the reimagination of Red Spot and bring a piece of Dublin's rich whiskey history back to life. It has been 50 years since the world last saw Red Spot and whiskey enthusiasts have long awaited its return – this is a bold whiskey that packs a punch, has incredibly rich flavours and an extra-long infusion of fruits and spices on the finish that provides a truly unique and colourful ending. We're delighted to be able to offer this lost, but not forgotten whiskey, once again, and look forward to one day completing the full Spot Whiskeys range." 
The Mitchell family commenced trading in 1805 at 10 Grafton Street in the heart of Dublin as purveyors of fine wine and confectionery. In 1887, the business expanded into whiskey bonding whereby it sent empty wine and fortified wine casks to the local Jameson Distillery on Bow Street to be filled with new single pot still spirit for maturation in the Mitchell's cellars. 
The Red Spot name was derived from the Mitchell's practice of marking their maturing casks of whiskey with a daub of coloured paint to determine the age potential of the whiskey; with a Blue Spot, Green Spot, Yellow Spot or Red Spot indicating 7, 10, 12 or 15 years respectively. Four generations later, the company is still in the wine and spirits business under the stewardship of Jonathan Mitchell and his son Robert.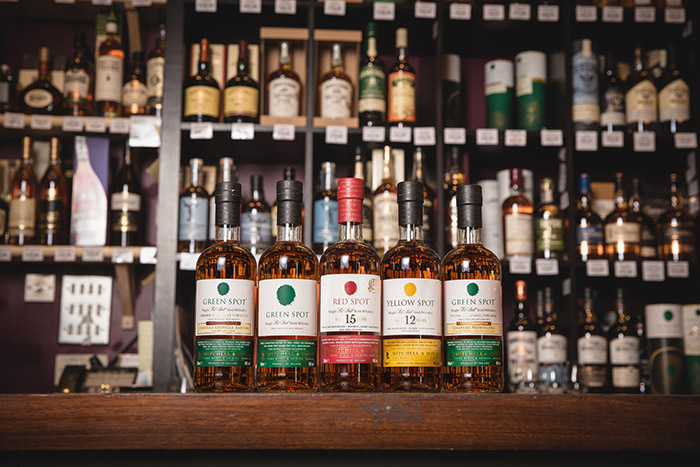 Jonathan Mitchell, Managing Director at Mitchell & Son, explained: "It has been fascinating to work with Kevin O'Gorman and the craftsmen at Midleton Distillery to recreate Red Spot and a real journey into the rich history of our family and its role in Dublin's whiskey bonding era. Pouring over old recipe books, ledgers and archive material has provided us with the tools to tell the story of Red Spot in a new, yet authentic way – and at almost one hundred years since it was crafted for the first time, by my great-grandfather Robert Mitchell, this is a whiskey homecoming for the ages. Indeed, everyone at Mitchell & Son is thrilled to see the red daub adorning a bottle once more." 
Brendan Buckley, Innovation & Prestige Whiskeys Director at Irish Distillers, added: "The release of Red Spot marks the next colourful chapter in the story of the Spot Whiskeys range, which is becoming increasingly popular among modern whiskey drinkers across Europe and the USA due to its focus on innovation, unique role in Dublin's whiskey bonding history and world-renowned high quality. Red Spot is a liquid time capsule that remembers our past while we look to the future and we are honoured that the people behind the original Spot Whiskeys, our partners at Mitchell & Son, are so supportive of our mission to return the range to its former glory." 
Bottled at 46% ABV and without chill-filtration, Red Spot is re-introduced and available from this month at the RRP of €115 in Ireland and from January 2019 in the USA, UK, France and Global Travel Retail.
<< Read more about Irish Distilleries

<< View Scottish Single Malts on Planet Whiskies
<< Back to all the latest whisky news brought to you by Planet Whiskies