The BenRiach Distillery Company Wins Ten Medals At IWSC 2015 :: 23rd July, 2015
Published Date: 23rd July 2015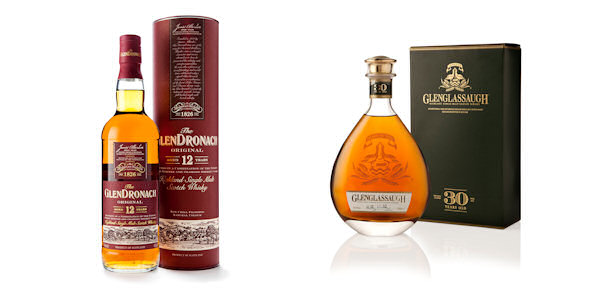 Photo - The BenRiach Distillery Company gold medal winners the GlenDronach 12YO and the Glenglassaugh 30YO
THE BenRiach Distillery Company has won 10 medals, including two Gold and four Silver Outstanding, across its three brands at this year's International Wine and Spirits Competition.
And rounding off an excellent performance at the Awards, the Edinburgh-based company was again shortlisted for the 2015 UK Spirits Producer award.
Founded in 1969, the International Wine and Spirit Competition is one of the most prestigious in the world. It currently receives entries from over 90 countries, giving it global reach. It was set up to seek out, reward and promote the world's best wines, spirits and liqueurs. Now in its forty-sixth year, the IWSC's pursuit of excellence underpins every aspect of the competition today.
Judging for the competition is unique in that it has two stages; first, the products are tasted blind by expert panels, selected from over 300 fully experienced and qualified industry judges. Then, products which receive the top medals are subject to technical analysis before results are released; this crucial stage ensures winners receive complete validation.
The company's full list of awards is:
Gold Medal
GlenDronach 12YO
Glenglassaugh 30YO 
Silver Outstanding Medal
BenRiach 12YO Sherry Wood Matured
BenRiach 10YO
GlenDronach 8YO
BenRiach 35YO
Silver Medal
GlenDronach Cask Strength Batch 4
Glenglassaugh Revival
Glenglassaugh Torfa
Glenglassaugh Evolution
Sales Director Alistair Walker
Sales Director Alistair Walker said: "An IWSC award is an internationally-recognised badge of quality and we're delighted to win ten this year, especially as they are spread across all three of our brands.
"To receive a Gold Medal for the GlenDronach 12 Years Old is particularly satisfying as it is both our flagship expression and our best-selling brand this year with fantastic worldwide sales and growth. It is also very gratifying to see the Glenglassaugh 30 Years Old taking gold too. It was the first release from the distillery after we took over in 2013 and has been critically acclaimed in all our markets. It bursts with flavour and is full of the distinctive Glenglassaugh coastal character."
He added: "Winning four outstanding silvers is also very pleasing, especially the two for our brand-new releases, the BenRiach 10YO and the GlenDronach 8YO. The BenRiach 10 Years Old is Classic Speyside in character and the cask formula focuses on ex-bourbon and ex-sherry casks – exactly the types of wood we favour at BenRiach. And the GlenDronach 8 Years Old, known as The Hielan', is a rich and immensely satisfying dram with a classic sherry signature.
"It is a huge achievement for a small independent to make the UK spirits producer shortlist in the company of global companies and we are thrilled with these fantastic results."
See all the Single Malts Whiskies from BenRiach Distilery
Read more about the history and see contact details for BenRiach distillery
<< Back to all the latest whisky news brought to you by Planet Whiskies