Auchentoshan Single Malt Scotch Whisky Launches the Longest Ever Wine Finish in the Industry | 11th September, 2014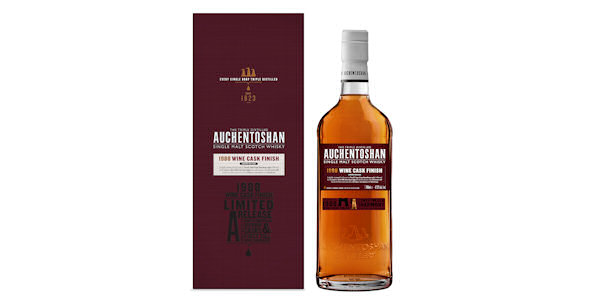 25 years in the making, the 1988 Wine Cask Finish Brings Together the Best of American Oak and French Wine Barriques
Auchentoshan, the only distillery in Scotland to continuously triple distil every single drop of its whisky, is proud to launch its exclusive limited edition 1988 Wine Cask Finish.

This 25 year old limited release of 1,800 bottles brings together the best of American oak and French oak. It was initially matured for eight years in North American bourbon casks followed by an exceptionally long finish of 17 years in first fill wine barriques from Bordeaux, making it the longest Auchentoshan has ever been finished, and the longest wine finish in the industry.
Auchentoshan Master Blender Rachel Barrie said: "The story began by nurturing our pure Auchentoshan spirit for eight years in the softness of American oak. Over the next 17 years, our sweet Auchentoshan ventured into the bold passionate world of French Bordeaux. Now a handsome 25 year old, full of sophistication, ready to meet the world and share the fruits of this journey. With black cherry, soft plum and rich tobacco, one sniff brings seduction and so much more."
The lightness of Auchentoshan's triple distilled spirit makes it perfectly suited to absorbing the qualities of the wine barriques, harmoniously resulting in an expression that is both sweet and rich. The liquid is a deep antique copper and takes influence from the exceptionally long finish in wine barriques with notes of sweet black cherries and grapey-wine tannins lingering to the end.
The 1988 Wine Cask Finish has already been recongnised for its excellence in the industry, being awarded Silver Outstanding in the 2014 International Wine & Spirit Competition. The packaging had also received recognition with a nomination in the Scottish Creative Awards.
Established in 1823, Auchentoshan triple distils every drop meaning the spirit produced reaches 81% ABV, significantly higher than most distilleries in Scotland. It is this delicate distillate paired with the carefully selected oak casks, that gives Auchentoshan an unmistakably light and fruity flavour. Auchentoshan's inventive approach to Scottish whisky production has led the brand to embrace innovative ideas and processes such as maturing whisky in wine barriques.
Tasting notes:
To the eye: Deep antique copper.
To the nose: On the nose, cinnamon-spiced plums, sweet black cherries and chocolate cream. Beneath the sweetness is the subtle earthiness of ginger root, dried tobacco, cocoa and roast chestnut.
To the tongue: The palate is supple and smooth with spicy oak tannins and a subtle chalkiness. Sweet cherries, plums skins and icing sugar develop with gently warming spices and burnt orange peel.
To the end: Ripe cherries, stony minerals and rich grapey-wine tannins linger into the finish.
Available from specially selected retailers at £275 / ABV: 47.6%
For more information visit www.auchentoshan.co.uk
<< See more malts from the Auchentoshan Distillery
<< Back to all the latest whisky news brought to you by Planet Whiskies