SAN FRANCISCO 2014 AWARDS - Tomatin Awarded four medals - 27th March, 2014
Tomatin have been awarded four medals from the San Francisco World Spirits Competition 2014. This competition is regarding as one of the most respected spirit competions in the world. This competition saw the Tomatin products evaluated by top spirits professionals on a blind tasting basis.
SAN FRANCISCO 2014 Awards:
Tomatin 18 Year Old Single Malt – DOUBLE GOLD
Tomatin 12 Year Old Single Malt – GOLD
Tomatin LEGACY Single Malt – GOLD
Cù Bòcan Single Malt – SILVER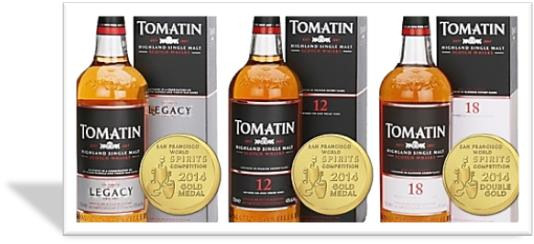 More details at www.tomatin.com.
<< View Tomatin Single Malt Range
<< View more details about the Tomatin Distillery
<< Read about Planet Whiskies tour of Tomatin DIstillery
<< Read more Graham Eunson Master Distiller
<< Back to all the latest whisky news brought to you by Planet Whiskies