The Scotch Malt Whisky Society: Global Whisky Club Attempts 'World Dramination' With Record-Breaking Tasting
Published Date: 10th August 2023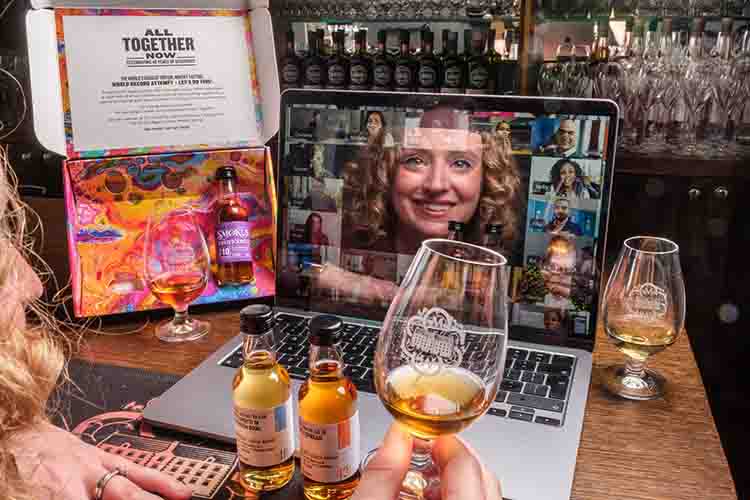 To celebrate its 40th anniversary and approaching the milestone of 40,000 members around the world, The Scotch Malt Whisky Society (SMWS) has announced it will attempt to set the GUINNESS WORLD RECORDS title for the most participants in an online whisky tasting event.
Up to 1,250 members of the worldwide whisky club across the UK, USA, Japan, China and Australia will come together online and take part in the three-dram tasting for around 45 minutes on Saturday 30th, September 2023.
The record-setting attempt is taking place during 'The Gathering', the flagship event in the Society's year-long series of 40th anniversary activities for its growing community of members around the world.
Founded in Edinburgh in 1983 by maverick Pip Hills, the SMWS started out as a small group of like-minded whisky lovers who shared a passion for single cask whisky. Now owned by the Artisanal Spirits Company, but with Hills, now 82, at the heart of its 40th-year celebrations, the Society is now the world's largest whisky club, with almost 38,000 members in more than 20 countries across the globe.
The groundbreaking online whisky tasting event will take place across the world at 2pm. It will be live-streamed from The Vaults in Leith, Edinburgh, the spiritual home of the SMWS, The first dram will be hosted by SMWS Master Ambassador, John McCheyne, the second by Tom Smith, Senior Director of SMWS USA, and the third by Matt Bailey, Director of SMWS Australia.
Partnering with video production company GLO to live-stream the tasting via Zoom, the Society's world-record bid will see their members taste three Society drams during the online event.
The drams are Cask No. 55.78 What a Spread!, a 13-year-old rich and sweet bottling from a Speyside distillery, with tasting notes of "spiced toffee, creme brulee and a touch of fresh oak"; Cask No. 39.244 Tutti Frutti in a Wooden Bowl, an 11-year-old whisky from the SMWS Juicy Oak & Vanilla flavour profile; and Batch 15 Smokus Fruticosus, a blended malt comprised of malt whiskies from the islands of Islay & Orkney.
Commenting on the record-breaking attempt, Madeline Schmoll, event host and Social Media and Community Manager at The Scotch Malt Whisky Society UK said, "The Scotch Malt Whisky Society has come a long way since Pip Hills and his friends started exploring the amazing array of flavours in single cask whisky in Edinburgh in the early 1980s.
"Now, 40 years later, the Society has almost 40,000 members around the world, including around 18,000 here in the UK, so what better way to celebrate that by bringing so many of our members together to go for this world record.
"We're delighted to be playing our part in this world record attempt - we'll certainly have fun trying to do it!"
More Whisky News