From Dream To Dram | New Fife Distillery at Kingsbarns is "Topping Out" | 17th June, 2014

The new single malt distillery under construction at Kingsbarns in Fife has passed another milestone in its development with the completion of the roof of the refurbished listed building.
Director William Wemyss visited the site last week to put one of the last of the roof tiles into place. Joining him were the Distillery Founder and newly appointed Visitor Centre Manager, Douglas Clement; new Distillery Manager, Peter Holroyd; and Director of the site contractor Colorado, Ian Bownes. "Topping out" is a tradition in the building industry when a building is being completed with its roof or top. In this instance, the Wemyss party also marked the occasion with a dram from the Wemyss Malts whisky range.
Wemyss family bought the Kingsbarns Distillery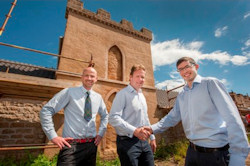 The Wemyss family bought the Kingsbarns Distillery project in January 2013 and construction at the site began at Easter that year. Approximately 6 miles from St. Andrews, the distillery and its visitor centre are being built close to the world famous Kingsbarns championship golf course on the Cambo Estate. The site of the actual distillery is the historic and charming East Newhall Farm steading.
The new Kingsbarns Single Malt Scotch whisky will be classified in the Lowlands region and available after a minimum of three years maturation in oak casks. Fife grown malted barley has been secured to make the spirit and it will be matured predominantly in ex-Bourbon casks.
William Wemyss, commented on behalf of the Wemyss family
William Wemyss, commented on behalf of the family: "It's been a very exciting year watching the site re-development progress. We've still got a lot to do to fulfil our dream of distilling at Fife's newest single malt distillery, however we expect to be underway in November and are planning that the visitor centre and cafe will be open to the public from December this year. Key members of our new team are now in place and we welcome Peter Holroyd as Distillery Manager and the Distillery Founder Douglas Clement as Visitor Centre Manager. "