Jura toasts 200th celebrations with a dram of newly releases 21 YO - 26th October, 2010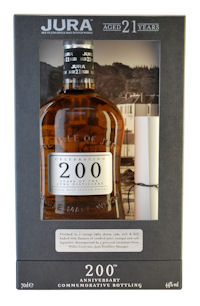 This year marks a special year for the Jura distillery as it is celebrating its 200th anniversary. To commemorate this occasion, Jura is releasing a new limited edition 21yo which will be available to buy direct from the island or through specially selected whisky partners.
The distillery, which was founded in 1810, is the only distillery on the island and is home to the award winning range of single malts – 10, Superstition, 16 and Prophecy - with the Jura 21 years old will now sitting alongside the collection.
If its maturation in vintage sherry casks from 1963 isn't enough to tempt the palate, as an added anniversary bonus, each pack will contain an exclusive invitational scroll from Distillery Manager, Willie Cochrane, to a special tasting of rare whiskies at the distillery. There will also be 21 stays at the luxury Jura lodge up for grabs for purchasers of the commemorative malt.
Willie Cochrane, Distillery Manager commented: 'At the distillery we are all extremely proud of this 200th anniversary expression. Not only is it an exceptional malt, it's also an exceptionally rare malt with only a few thousand people being lucky enough to be able to enjoy this beautiful whisky that has been matured in a vintage Oloroso sherry cask. '
He continued: 'Each and every bottle will also contain a personal invite from me to join me and my team at the distillery for a private tour and to indulge in some of our rarest malts, but consumers need to be quick off the mark as there are a limited number of bottles and tours available worldwide.'
Tasting Notes for Jura 21 Year Old:
The unique vintage 1963 Oloroso sherry casks from Gonzalez Byass have provided this noble spirit with a flawless finish of sot marzipan, crushed walnuts, fleshy pear and tangy orange peel. Whispers of succulent maraschino cherries, plums and soft liquorice complete this memorable masterpiece.
<< Buy Jura Single Malts Whisky
<< Read more about Jura Distillery
<< Back to all the latest new brought to you by Planet Whiskies