Glenmorangie and The Open Golf Championship: The Perfect Partnership of Two Scottish Icons
Published Date: 2nd February 2012
Scotland's favourite single malt whisky Glenmorangie, teams up with golf's most
famous competition - The Open Championship
Pairing of two Scottish icons golf and whisky announced in three year partnership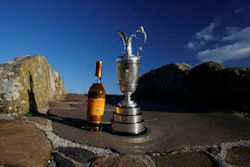 Scotland is celebrated the world over for whisky and golf, so what could be more appropriate than today's (2nd February 2012) announcement of a three year partnership, that will see Glenmorangie become the Official Whisky of The Open Championship.
The pairing of Glenmorangie and The R&A organisers of The Open Championship, is a natural fit as both have huge global followings.
Glenmorangie is enjoyed in over 130 countries worldwide and of course in the UK where it is Scotland's favourite single malt whisky.
The Open Championship is golf's most famous tournament watched on television by an estimated 458 million households in 196 territories worldwide. Over 200,000 visitors flock to Britain's finest coastal golf courses every year to enjoy the drama of The Open in person. Royal Lytham & St Annes Golf Club, near Liverpool, will be hosting the Open Championship in 2012 (15-22 July).
Both Glenmorangie and The Open have a proud heritage dating back over 150 years. Glenmorangie was first produced in 1843 and is a leading player in premium single malts, whilst The Open is golf's oldest Major Championship dating back to 1860 and offers the famous Claret Jug as its prize.
Just as Glenmorangie goes to unnecessary lengths to craft its award winning single malt whisky - using the tallest stills in Scotland and only the finest quality oak casks - so The Open is renowned every year for its meticulous preparation of the greens, fairways and bunkers of each Championship course.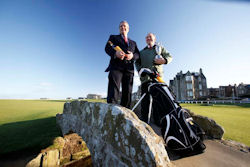 Peter Dawson, The R&A's Chief Executive welcomed Paul Skipworth, President and Managing Director of The Glenmorangie Company, to St Andrews, and expressed his delight at the partnership.
Paul Skipworth said: "Glenmorangie is proud to become a part of this amazing Championship, which will see our whisky showcased to as many as 200,000 visitors at each Open. Glenmorangie is delighted with our partnership with The R&A, an association of our mutually high standards. Like The Open itself we believe in going the extra mile in the pursuit of perfection."
Peter Dawson said: "We are thrilled to welcome Glenmorangie as the Official Whisky of The Open Championship. Glenmorangie is an iconic Scottish brand which like golf is enjoyed the world over."
<< Back to all the latest whisky news brought to you by Planet Whiskies