Latest Whisky News - Glengoyne goes down a storm at ScotFest 2009 - 5th October, 2009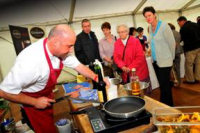 Glengoyne Distillery proved the big pull at the one day ScotFest celebrations in Central Scotland earlier this month, tempting visitors to the Glengoyne Tent with tutored whisky tastings and offering samples of their handcrafted, multi-award winning whisky throughout the day. The Glengoyne team also hosted special blending sessions giving visitors the chance to learn the art of the Master Blender and create their very own unique blended whisky.
The tasty aromas and culinary creations of chef Tom Lewis of Monachyle Mhor hotel, also appearing in the Glengoyne Tent, enticed visitors with his cookery demonstrations, blending Glengoyne's Real Taste of Malt with ingredients from Scotland's rich natural larder to create delicious modern dishes.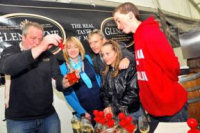 Stuart Hendry, Glengoyne Brand Heritage and Commercial Manager commented: "It has been a cracking day and we are delighted that the Glengoyne Tent has been such a popular hit with the visitors. Working with Tom Lewis has been a great success and helped widen the appeal of whisky, demonstrating how well it works, not only as an award-winning dram, but also as a quality cooking ingredient."
Over 3,000 visitors joined Glengoyne and the other 80 exhibitors at the ScotFest event, which showcased a wide selection of Scotland's fresh food and drink as well as celebrating a range of talented Scottish Arts and Crafts designers. All exhibitors were handpicked to ensure a broad mix of specialities of only the highest quality were available on the day.
Entertainment was be provided throughout the day with pipes and drums, falconry and ScotFest's very own Town Crier plus Kid's Zone featuring everything from face painting to a completely weatherproof bouncy castle. For further information on the event please visit www.scotfest.co.uk
Curious to discover more visit: www.glengoyne.com
Glengoyne encourages responsible drinking
www.drinkaware.co.uk www.scotch-whisky.org.uk
<< View the range of Glengoyne Single Malts
<< Back to all the latest whisky news brought to you by Planet Whiskies