Glenglassaugh releases first batch of single cask bottlings - 4th April, 2014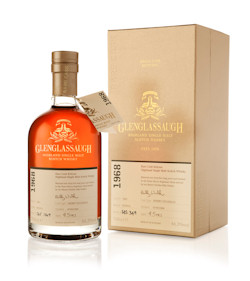 GLENGLASSAUGH has today (4 April) released its first batch of single cask bottlings.
Revived from the dark and hand-selected by Managing Director and Master Distiller Billy Walker, there are eight phenomenal malts in Batch 1 which range from 45 to 28 years.
All are crisp, fresh, sweet Highland malts that hit the palate with the power of complex fruit bombs - from apples, bananas, pineapples, grapefruit, prunes and plums to lime, cantaloupe melon and caramelised orange!
The oldest, cask # 1601, 45 years old, was distilled in May 1968. Bottled at 44.3% vol, this autumn gold veteran is long and luxurious. On the nose, heady red candy apples balance with delicate spiced orange softening to distant pineapple juice. And on the palate, crisp oak spices soften to reveal elegant waves of fresh green apple and wisps of ripe banana. Delicate hints of passion fruit, cedar wood and lime zest bring a fantastic depth to the long finish.
As a contrast, the youngest in the batch is a 28 year old distilled in February 1986.
This rich amber beauty, cask # 2101, was bottled at 43.7% vol. On the nose, gentle heather honey holds warm cigar box spices. Crisp, freshly-ground barley surrounds soaked raisins and sultanas. And on the palate, a toasted white oak spice runs through Demerara caramelised orchard fruits which mellow to dried apricot and hints of vanilla in the long subtle finish.
Glenglassauch Sales Director Alistair Walker
Sales Director Alistair Walker said: "We took over Glenglassaugh last year and were thrilled to discover a treasure trove of old and rare spirits slumbering in the warehouses. Revived from the dark, selected by Billy Walker for their excellence and personality and bottled last month, this is an extraordinary collection of rare casks which will be warmly welcomed by connoisseurs worldwide. Taken together, they are stunning examples of Glenglassaugh at its finest.
"All eight are presented in a beautiful golden box.

The Glenglassaugh batch details are:
1968 cask # 1601 / 45 years old / Finished in the finest Sherry Hogshead / 44.3% vol
1972 cask # 2114 / 41 years old / Matured in the finest Sherry Butt / 50.6% vol
1973 cask # 6801 / 40 years old / Finished in the finest Manzanilla Sherry Puncheon / 52.1% vol
1975 cask # 7301 / 38 years old / Finished in the finest Oloroso Sherry Hogshead / 40.7% vol
1975 cask # 7801 / 38 years old / Finished in the finest Moscatel Hogshead / 42.4% vol
1978 cask # 1803 / 35 years old / Finished in the finest Sherry Hogshead / 41.6% vol
1978 cask # 1810 / 35 years old / Finished in the finest Port Hogshead / 42.9% vol
1986 cask # 2101 / 28 years old / Finished in the finest Hogshead / 43.7% vol
If you would like to receive more information, please contact us on info@glenglassaugh.com
<< Back to all the latest new brought to you by Planet Whiskies