Latest Whisky News - Glendronach launches new 15 Year Old Tawny Port Finish - 10th May, 2011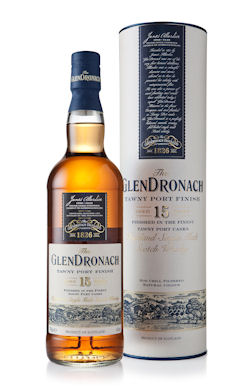 GLENDRONACH'S burgeoning reputation for producing innovative, richly-sherried expressions is boosted this month with the launch of its new 15yo GlenDronach Tawny Port finish.
This unique expression was initially matured in European oak and thereafter finished its maturation in a very small batch of Tawny Port casks, which have given the final whisky its own range of idiosyncratic flavours and aromas.
The 15yo is non-chill-filtered, of natural colour and is bottled at 46% abv. Released independently of any other wood finishes, only one thousand cases will be available in over twenty export markets, and in the UK through independent, specialist whisky retailers, as well as at the GlenDronach distillery shop.
The tasting notes make it clear that the rich infusion of port helps create a warming, sweet and satisfying dram.
Appearance: Prominent rose-wine hue, built around a light copper orange core.
Nose: Stewed damsons and plum conserve. Raisins, sultanas and fine grand cru chocolate provide lovely depth and structure.
Palate: Fruit shortcake drenched in vanilla custard, with a scattering of dried figs, dates and wild strawberries highlight a wonderfully long finish.
Finish: A fruit-laden whisky to enliven the taste buds.
Sales Director Alistair Walker said: "Last year we launched the first of our four wood finishes which included a 20yo Tawny Port finish. This whisky was a great success and sold out very quickly, so we decided to release a second bottling again this year. The new 15yo Tawny Port maintains our tradition of releasing wonderful non-sherry wood finishes of the highest quality.
"We have carefully selected whisky that has been gently maturing in lighter casks so that aficionados experience the full impact of the port. The very pleasing result contributes extra depth and concentrated stewed fruit flavours."
<< Back to all the latest new brought to you by Planet Whiskies