World class signings at Ballantine's Championship 2010 - 23rd February, 2010
Published Date: 23rd February 2010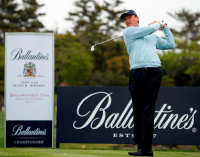 23.02.2010 - Kilmalid-bottled Ballantine's, the world's No 2 range of blended Scotch whiskies, has signed three-time Major winner Ernie Els, PGA Tour star Anthony Kim and current world No 10 Henrik Stenson to take part at this year's Ballantine's Championship in Korea. They will be joined in the €2.2 million showpiece by European Tour legend Miguel Angel Jiménez and the tournament's 2008 champion, Graeme McDowell.

The Ballantine's Championship, which is hosted on the picturesque island of Jeju from 22-25 April, is Asia's fourth biggest golf tournament and the largest sporting event in Korea. It is an established platform which drives Ballantine's long-term relationship with the iconic sport.

This year's tournament marks the 50th anniversary of Ballantine's first involvement with the sport, which dates back to a high profile tournament in 1960. 'The Ballantine's Tournament' was held at the prestigious Wentworth Golf Club and saw the introduction of the modern, bigger golf ball, which is now standard, to the game for the first time. The tournament also attracted some of the most well respected players of the day, including the legendary Christy O'Connor.

To mark the half century milestone, Dumbarton-based Master Blender Sandy Hyslop has created an exclusive 2010 Ballantine's Championship Blend - a now well established annual tradition. A priceless, limited edition Scotch whisky, the blend combines extremely rare grains and malts, with some taken from the time of the first Ballantine's golf tournament fifty years ago. Only 20 bottles of this precious 36 Year Old blend have been created and, in what has become an annual tradition at the tournament, one bottle will be given to the new Ballantine's Champion.

Ballantine's Global Brand Director, Peter Moore commented: "The depth of talent and character in the players announced is a reflection of the stature of the Ballantine's Championship and we look forward to hosting them during our anniversary year at the prestigious Pinx Golf Club in April".

Both golf and Ballantine's have their roots in the same part of Scotland and their legacies have left a lasting impression on the world. Golf originated on the East Coast of Scotland in the St Andrew's, Leith and Edinburgh areas as early as 1450 before it spread to all corners of the world. It was here too, in Edinburgh, that George Ballantine founded his spirits business that was also to spread its influence globally.
Read more at www.ballantines.com
<< Back to all the latest whisky news brought to you by Planet Whiskies