Wild Turkey®Bourbon Cocktail Competition seeks the best of UK Bartenders
Published Date: 21st June 2014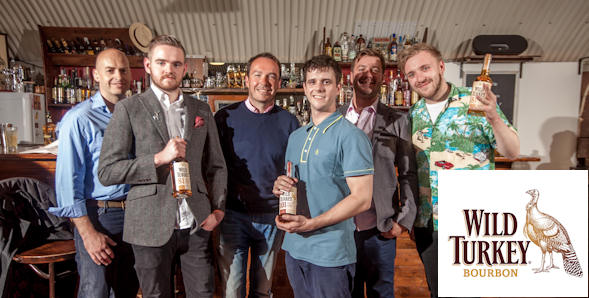 Gruppo Campari's Wild Turkey® Bourbon launched its annual UK Cocktail Competition last month to seek out the best whisky bartender in the country. The iconic American brand will be touring the UK over the course of the summer in search of a bartender with a passion for the authentic Kentucky Bourbon Whiskey. The winner, plus 1 runner up, will win an exclusive trip to Kentucky to discover the recently opened Wild Turkey Visitor Centre, indulge in a VIP tour and special tasting, before wrapping up with a night in New York City checking out all the best bourbon bars.
Last years winner Henry Yates of Boilermaker in Nottingham clinched the top prize after competing with 10 of the best bartenders from across the UK in an exciting and heated battle to be crowned Wild Turkey Cocktail Champion 2013. Henry won the competition unanimously with his cocktail named 'The Right to Freeze Peach' which was voted for by judges Simon Difford of Diffordsguide.com, Martin Taylor of Wild Turkey, and Hugo Mills, previously of Gruppo Campari.
Speaking about his creation, Henry said, "My inspiration for the peach, ice tea and mint cocktail originated from Wild Turkey country. I wanted to create a cocktail with ingredients which are readily available, as an introduction to Bourbon."
To make last years winning Wild Turkey cocktail 'The Right to Freeze Peach' by Henry Yates, you will need;
50ml Wild Turkey 81
10ml Crème de peche
20ml Peach syrup (canned)
10ml Lemon juice
100ml Iced black tea (Chinese)
6 drops of Grapefruit bitters

Shake over ice, strain and serve in an empty peach tin can with a sprig of mint and garnish with a Wild Turkey 101 atomised peach slice.
This years competition will be judged by Wild Turkey UK Ambassador Martin Taylor, as well as a yet to be announced line up of blogging talent and drinks experts. To join Henry Yates in the elite ranks of Wild Turkey Cocktail Champion bartenders must submit their Wild Turkey cocktail before Monday June 23rd. The rules stipulate that the cocktail must not contain more than 7 ingredients, with of course one being Wild Turkey 81 or Wild Turkey 101. From the submissions, the judges will select a short list of competitors who will compete in the heats before the regional final in Manchester on the 27th of August.
Regional heats will take place in the following locations on the dates below between 1-4pm:
Edinburgh Voodoo Rooms 8th July 2014
Liverpool Jennys Bar 22nd July 2014
Nottingham Boilermaker 29th July 2014
London Hawksmoor Spitalfields 5th August 2014
Bristol Red Light 12th August 2014
Submissions closed on Monday 23rd June 2014 and website entries terms are now not available.

<< Back to all the latest whisky news brought to you by Planet Whiskies