Label 5 - Release of 2 special gift boxes - 5th November, 2012
LABEL 5 ANNOUNCES THE RELEASE OF TWO GIFT BOXES FOR THE END OF THE YEAR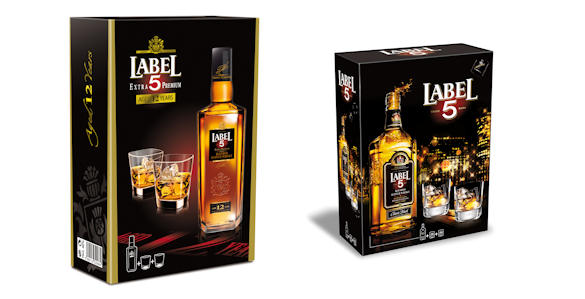 The leading Blended Scotch Whisky LABEL 5 reveals two gift boxes for the end of the year available worldwide for its two flagship products: LABEL 5 Classic Black and LABEL 5 Extra Premium 12 years old.
LABEL 5 Classic Black keeps on capturing the spirit of big cities
Continuing the saga "Citizen of the World", the new design of the LABEL 5 Classic Black gift box will please all the gift givers. Through this new artwork featuring an illustration with buildings and lights, the brand remains faithful to its positioning and identity – a modern, urban and dynamic Blended Scotch Whisky.
With two glasses engraved with a "5" inside, this gift box will be a must-have!
The perfect gift to impress any whisky lover
LABEL 5 Extra Premium 12 yo. comes as an elegant and sophisticated gift box with two designed glasses.
A perfect gift idea for whisky lovers who are willing to taste an exceptional Scotch Whisky of superior quality, highly awarded this year.
Please enjoy LABEL 5 responsibly.
<< Back to all the latest whisky news brought to you by Planet Whiskies